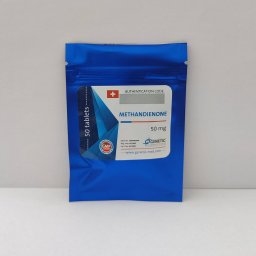 Genetic Pharmaceuticals
Methandienone 50mg
Drug Class: Anabolic Androgenic Oral Steroid
Administration: Oral use
Manufacturer (Brand): Genetic Pharmaceuticals
Chemical Substance: Methandienone
Strength: 50 mg/tab
Unit: 50 tabs
Dosage: 40mg/day; 1-4 weeks;
Goal: Bulking
Methandienone 50mg Detailed
Methandienone is an anabolic-androgenic steroid common among bodybuilders, athletes, and competitive sportspeople. It is a synthetically derived compound of the steroid hormone testosterone and has a powerful androgenic-anabolic activity. While technically classified as a Schedule III controlled substance in the United States, it's legal in many other countries, and therefore widely available as a performance-enhancing drug.
Composition
Methandienone is a white crystalline powder composed of 17-alpha-methyltestosterone and has a molecular weight of 300.442 grams per mol. It's also known as methandrostenolone and is known to possess incredible anabolic properties. It is available in injectable and oral form.
Prescription
Methandienone is a prescription only drug in most countries and should only be used as directed by a qualified doctor or pharmacist. It can have serious side effects so only people with specific medical need should use it.
Active Life
Methandienone has a half-life of about 6-7 hours, which means it's quickly broken down and eliminated from the body shortly after it is administered.
Pharmacology
When used correctly, Methandienone acts as an androgen agonist, meaning it binds to specific androgen receptors in the body and increases the signals that initiates muscle growth. It's also famous for its anti-estrogenic effects, which typically help to reduce water retention and bloating.
Interactions
Methandienone should not be used with other anabolic steroids without first consulting a qualified doctor or pharmacist as it could have severe interactions and side effects. It should also not be taken with certain medications, including hormone replacement therapy drugs and diuretics.
Precautions
Methandienone is not suitable for everyone and it's important to get medical advice before taking it. People with certain medical conditions should not take it, and should keep their usage moderate. It can affect hormones and fertility, so pregnant and breastfeeding women should also never take it.
Uses
Methandienone is an anabolic steroid and is mostly used to increase strength and mass. It's a popular choice among bodybuilders and sportspeople, and can be taken solo or 'stacked' with other anabolic steroids for increased performance enhancement.
Dosage
Methandienone is usually taken orally, though it can also be taken as an injectable solution. The recommended dosage for men is 20-80mg per day taken over 4-5 days, with the dose divided throughout the day and taken at least 6 hours apart.
Half-Life
The half-life of Methandienone is usually around 6-7 hours, meaning it's quickly broken down and eliminated from the body shortly after it is administered.
Cycle
Methandienone is usually taken in a cycle of 4-12 weeks, with 6-8 weeks being the most common. It can be taken alone or in a stack with other anabolic steroids and it's important not to go over the recommended dosage.
Overdose
If an overdose of Methandienone is taken it can cause serious health risks, such as nausea, vomiting, liver damage and kidney damage. It's therefore important to not over use it and always take the correct dosage.
Legal
In the United States, Methandienone is a Schedule III controlled substance and its sale and distribution are illegal unless prescribed by a doctor. It's legal for personal use in other countries but still requires a doctor's prescription.
Benefits
Methandienone can be very beneficial for people looking to bulk up and increase their strength. It increases protein synthesis, helps to decrease fat deposits in the body, and helps to retain lean muscle mass.
Results
When taken alongside a well-balanced diet and correct exercise regime, the results of Methandienone can be seen after 2-3 weeks of usage.
Side Effects
There are many possible side effects associated with using Methandienone including, but not limited to, depression, anxiety, irritability, liver damage, and gynecomastia. It is important to consult a doctor before taking it to minimise the risk of these effects.
Bodybuilding
Methandienone is widely used by bodybuilders and strength athletes. It helps to increase strength and muscle mass quickly and, when taken in doses over 300-400mg per day, it can cause significant size and strength gains fast.
Reviews
Generally, Methandienone has many positive reviews. People report that it has helped with their muscle gains and overall workout performance. However, it does have its downsides and it's important to research and speak to a qualified healthcare practitioner before taking it.
US Domestic Shipping
US domestic shipping for Methandienone is usually done through professional couriers such as FedEx, UPS or USPS. It is typically delivered within 2-3 days and requires a signature upon delivery.
Stacking
Stacking is the practice of taking multiple anabolic steroids in conjunction, and is popular among bodybuilders for added gains in strength and size. When it comes to Methandienone, it is best to start with a low dose and increase throughout the cycle if necessary.
Storage
Methandienone is best stored in a dry place at room temperature, away from direct sunlight and heat sources. It is also important not to keep it in a damp environment, such as the bathroom.
Brand Names
Methandienone might also be branded differently and is sold in different countries under various names, such as Anabol, Danabol, Dinabol, and Metanabol.
Price
The price of Methandienone varies depending on its source, brand, and form. It usually ranges from $20 to $50 for one bottle containing around 30-60 10mg tablets.
Warnings
It is important to be aware of the potential dangers of taking a powerful anabolic steroid like Methandienone. These can include liver toxicity, gynecomastia, water retention, and long-term effects to cholesterol, cardiovascular health, and fertility. Therefore, it should only be taken when absolutely necessary and should be taken with extreme caution.
Please log in to write Methandienone 50mg review.