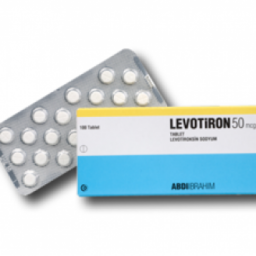 Weight Loss/Fat Burn
Levotiron 50mcg
Drug Class: Thyroid Hormone
Administration: Oral use
Manufacturer (Brand): Abdi Ibrahim Turkey
Chemical Substance: Liothyronine Sodium
Strength: 50 mcg/tab
Unit: 100 tabs
Levotiron 50mcg Detailed
WHAT IS LEVOTIRON 50MCG? | Abdi Ibrahim, Turkey Supplier
Legit Abdi Ibrahim, Turkey | Buy Levothyroxine Sodium for Sale
Levotiron 50mcg for Sale: Uses, Dosage, Cycle, Benefits, Side Effects & Reviews
Liothyronine Sodium or T3 is a synthetic form of triiodothyronine, which is a type of thyroid hormone. Although it is a synthetic form of thyroid hormone, it is still considered to be very similar to the natural hormone because it still has the same metabolic effects and functions as the natural hormone.
T3 is mainly prescribed to treat an underactive thyroid or hypothyroidism. It is usually prescribed as a replacement medication when the thyroid is not producing enough of the hormone on its own. This drug can also be used to treat certain types of goiters, either functional or inflammatory. In addition, the drug may be used to treat benign tumors of the thyroid and some types of thyroid cancer in some cases.
The active life of T3 is around one to three days in the body, meaning that it will take this long to see the full benefit of this medication. It is also important to remember that T3 must be taken regularly and on schedule in order for it to be effective.
When it comes to the pharmacology of T3, it is a thyroid hormone which binds to the T3 and T4 receptors in the body. It is then has the ultimate effect of increasing the metabolic rate of the body. It does this by increasing the enzyme activity of the body and resulting in more energy production, as well as an increased rate of fat burning.
The interactions of T3 are typically minimal. However, there can still be potential interactions with other medications and supplements, as well as some medical conditions. For this reason, it is important to discuss any other medications or supplements that you are taking when you are prescribed T3.
Precautions should be taken while using T3, especially if you have a history of heart problems, high cholesterol levels, and/or are pregnant or planning to become pregnant. It is not recommended to use if you are breastfeeding. It is also important to be aware that high dosages of T3 can lead to restlessness.
The uses of T3 include treating hypothyroidism, treating goiters, benign tumours, and certain types of thyroid cancer. It can also be used to enhance athletic performance and to improve body composition.
The dosage generally recommended for treating hypothyroidism is 25-100 mcg per day, while the dosage recommended for treating goiters, benign tumours, and certain types of thyroid cancer can range from 25-200 mcg per day. It is important to note that the dosage may need to be adjusted depending on your response to the drug, other medications, and/or medical conditions.
The half-life of T3 is approximately 2.5 days, meaning that it will take approximately this long for the drug to be completely gone from the body.
T3 is not typically cycled due to the short half-life of the drug. This means that it typically does not need to be taken off and on.
An overdose of T3 can cause palpitations, as well as other serious side effects. If you think that you have overdosed on T3, be sure to seek immediate medical help.
The legal status of T3 depends on the country or jurisdiction in which it is being purchased. In the US it is available over-the-counter in some states. However, in most cases, a prescription is required.
The benefits of T3 include increased metabolic rate, increased fat burning, and improved body composition. It can also help to treat hypothyroidism and some types of goiters, benign tumors, and thyroid cancer.
The results that you can expect from using T3 vary depending on the dose being taken and the individual
The possible side effects of T3 include headaches, irritability, restlessness, increased heart rate and blood pressure, as well as other thyroid-related side effects.
T3 can be used for bodybuilding in order to increase fat burning and enhance muscle strength. It is important to note that certain side effects, such as restlessness and palpitations, can occur if used in high dosages for bodybuilding.
The reviews for T3 vary widely, but most of the reviews tend to be positive because it does provide benefits for those with hypothyroidism or for those looking to improve their body composition.
US domestic shipping for T3 is generally quick and reliable. The cost can vary depending on the shipping method that you choose.
T3 can be stacked with other compounds in order to enhance its effects. However, caution should be taken when combining compounds because it can increase the risk of side effects.
T3 should be stored in a cool, dark place and away from direct sunlight.
Brand names of T3 include Cytomel and Triostat.
The price of T3 can differ depending on the brand name, dosage, and country of origin.
Warnings include to not take more than the recommended dosage, to watch out for possible side effects, and to be cautious when combining T3 with other compounds.
In conclusion, Liothyronine Sodium or T3 is a synthetic form of thyroid hormone that is prescribed to treat hypothyroidism, goiters, benign tumors, and certain types of thyroid cancer. It is available by prescription and is very effective in treating those conditions. There are some possible side effects and interactions, so it is important to discuss them with your doctor before you start taking the medication. In addition, it is important to remember to take the medication as prescribed and not to exceed the recommended dosage.
For more info about product discount/promo – Contact Our Customer Support
References:
Please log in to write Levotiron 50mcg review.