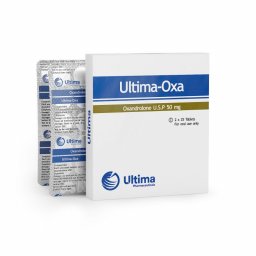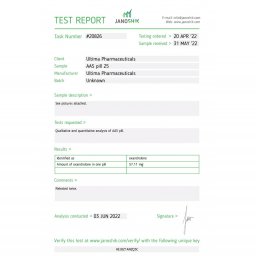 Ultima Pharma (US Domestic)
Ultima-Oxa 50
Drug Class: Anabolic Androgenic Oral Steroid
Administration: Oral use
Manufacturer (Brand): Ultima Pharmaceuticals
Chemical Substance: Oxandrolone
Strength: 50 mg/tab
Unit: 50 tabs
Dosage: 40-60 mg/day; 6 weeks;
Goal: Cutting
ONLY US DOMESTIC
Ultima-Oxa 50 Detailed
WHAT IS ULTIMA OXA 50MG? | Ultima Pharmaceuticals Supplier
Legit Ultima Pharmaceuticals | Buy Real Oxandrolone for Sale
Ultima-Oxa 50 for Sale: Uses, Dosage, Cycle, Benefits, Side Effects & Reviews
Anavar or oxandrolone is a prescription medication prescribed to treat conditions such as osteoporosis, cancer, AIDS, and Turner Syndrome. It is a synthetic anabolic steroid which is associated with virilization in women and androgenic effects in men. Oxandrolone belongs to the androgen and anabolic steroid (AAS) class of drugs, and is widely available on the open market both legitimately and through illegal online sources.
The pharmacology of Anavar is that it binds to androgen receptors more strongly than testosterone and can cause a wide array of effects on the body, including muscle growth and fat loss. Like all steroids, it carries a risk of side effects, including liver damage, depression, acne, and gynecomastia.
Interactions with Anavar can occur with certain other medications, supplements, or foods. Patients should discuss with their doctor all medications, supplements, and foods they are taking to ensure there are no dangerous interactions.
Patients prescribed Anavar should take precautions to avoid exposing others to the medication, as it is a form of AAS and may be misused or abused. Anavar should never be shared with another person, particularly someone who has a history of substance abuse.
Anavar has several approved uses, including treatment of the conditions mentioned earlier, and combating muscle wasting due to aging and chronic disease. It is also sometimes prescribed off-label to treat anemia, muscle wasting illnesses such as muscular dystrophy and HIV/AIDS, priming prior to cryosurgery in burns, and to reduce inflammation and to improve red blood cell production.
Anavar's half-life is approximately 9 hours. The half-life is the total amount of time it takes for half of the drug to be eliminated from the body.
The standard dosage for Anavar is 5 to 25 mg per day, taken orally in pill form. Anavar is typically prescribed for a period of 4-6 weeks. The dosage and cycle length may vary depending on the medical condition for which it is prescribed.
An overdose of Anavar may result in serious side effects, including liver damage, muscle and joint pain, hair loss, fatigue, nausea, and vomiting. It is important to speak with a doctor if an overdose is suspected.
Anavar is a controlled substance and is not legal for purchase without a prescription. It is illegal to possess and distribute Anavar without a prescription.
The potential benefits of Anavar include increased muscle mass and strength, increased endurance and improved recovery after strenuous exercise, improved fat loss, and potential improvement in red blood cell production.
Like all synthetic drugs, Anavar carries a risk of side effects. Side effects may include nausea, vomiting, headache, joint pain, loss of appetite, depression, and hair loss. Women may experience masculinization, and men may experience acne, testicular shrinkage, and gynecomastia. Serious side effects may include high blood pressure, heart palpitations, liver damage, and decreased libido.
Bodybuilders use Anavar for its muscle-building, fat-burning and endurance-enhancing effects. It is typically used as part of a stack, which may also include other oral and injectable steroids.
The reviews of Anavar vary depending on the individual and their goals. Some users report excellent fat loss and muscle gains, while others report only mild effects or none at all. Anavar is a drug that carries a risk of side effects, so it is important to discuss these potential effects with a doctor prior to use.
US domestic shipping of Anavar is limited by the Drug Enforcement Administration (DEA). Certain online distributors are permitted to deliver Anavar within the US, but other countries may not allow for domestic shipping of Anavar. It is important to research the laws of the country where Anavar will be shipped before ordering.
Anavar can be stacked with other steroids for greater muscle strength, fat loss and endurance. Commonly stacked drugs may include testosterone, winstrol, deca durabolin, primobolan, and human growth hormone.
Brand names of Anavar include Oxandrin, Anavar, Oxandrolone, Protivar, and Var.
There are several potential alternatives to Anavar, including testosterone replacements such as testosterone enanthate or cypionate, and non-steroidal muscle-building drugs such as creatine and beta-hydroxy-beta-methylbutyrate (HMB). Patients should discuss the potential benefits and side effects of any drug they are considering with a doctor.
For more info about product discount/promo – Contact Our Customer Support
View Results:

Ultima Pharmaceuticals Oxa 50

Analysis Report by "JANOSHIK" - Oxandrolone Lab Test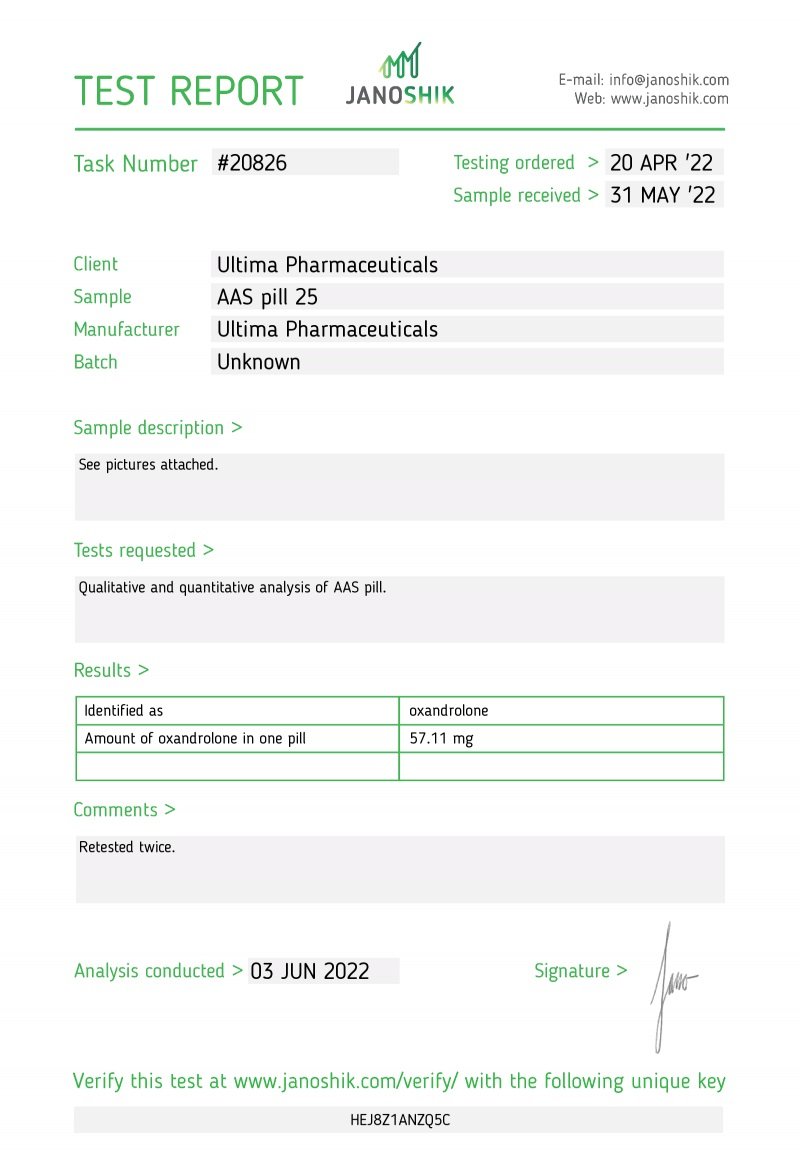 References:
Please log in to write Ultima-Oxa 50 review.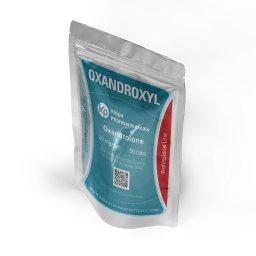 50 tabs - 20 mg/tab
Drug Class: Anabolic Androgenic Oral Steroid
Administration: Oral use
Manufacturer (Brand): Kalpa Pharmaceuticals, India
Chemical Substance: Oxandrolone
Strength: 20 mg/tab
Unit: 50 tabs
Dosage: 40-60 mg/day; 4-6 weeks;
Goal: Cutting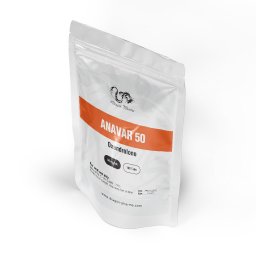 100 tabs - 50 mg/tab
Drug Class: Anabolic Androgenic Oral Steroid
Administration: Oral use
Manufacturer (Brand): Dragon Pharma
Chemical Substance: Oxandrolone
Strength: 50 mg/tab
Unit: 100 tabs
Average Dose: 40-60 mg/day; 6 weeks;
Goal: Cutting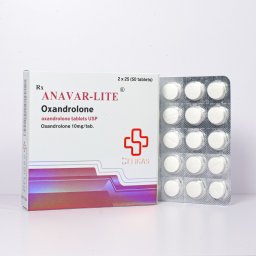 50 tabs - 10 mg/tab
Drug Class: Anabolic Androgenic Oral Steroid
Administration: Oral use
Manufacturer (Brand): Beligas Pharmaceuticals
Chemical Substance: Oxandrolone
Strength: 10 mg/tab
Unit: 50 tabs
Recommended Dose: 50-60 mg/day; 5-6 weeks;
Goal: Cutting
ONLY US DOMESTIC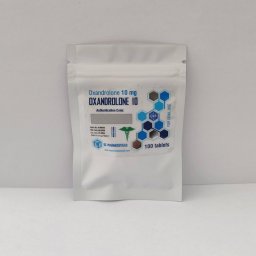 100 tabs - 10 mg
Drug Class: Anabolic Androgenic Oral Steroid
Administration: Oral use
Manufacturer (Brand): Ice Pharmaceuticals
Chemical Substance: Oxandrolone
Strength: 10 mg/tab
Unit: 100 tabs
Dosage: 50-70 mg/day; 4-6 weeks;
Goal: Cutting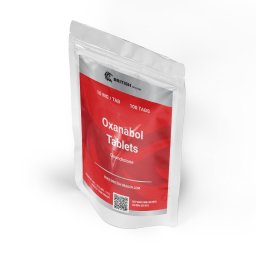 100 tabs - 10 mg/tab
Drug Class: Anabolic Androgenic Oral Steroid
Administration: Oral use
Manufacturer (Brand): British Dragon Pharmaceuticals
Chemical Substance: Oxandrolone
Strength: 10 mg/tab
Unit: 100 tabs
Recommended Usage: 50-70 mg/day; 4-5 weeks;
Goal: Cutting