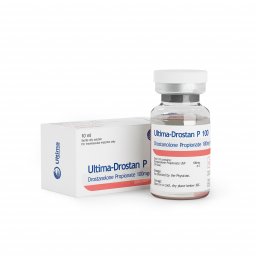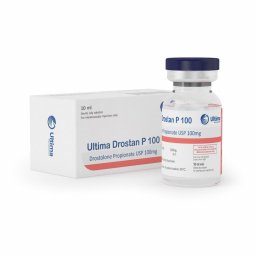 Ultima Pharma (US Domestic)
Ultima-Drostan P 100
Drug Class: Anabolic Androgenic Steroid Injection
Administration: Intramuscular Injection
Manufacturer (Brand): Ultima Pharmaceuticals
Chemical Substance: Drostanolone Propionate
Strength: 100 mg/ml
Unit: 1 VIAL x 10 ml [Sterile Multiple Dose]
Common Dose: 300-500 mg/week; 8-10 weeks;
Goal: Cutting
ONLY US DOMESTIC
Ultima-Drostan P 100 Detailed
WHAT IS ULTIMA DROSTAN P 100? | Ultima Pharmaceuticals Supplier
Legit Ultima Pharma Steroids | Buy Drostanolone Propionate for Sale
Ultima Drostan P 100 for Sale: Uses, Dosage, Cycle, Benefits, Side Effects & Reviews
Drostanolone Propionate is a synthetic anabolic steroid that is used primarily as a cutting agent, to help retain muscle while cutting off fat and allowing the user a leaner and more toned physique. It is part of the dihydrotestosterone (DHT) family, and is classified as a Schedule III controlled substance in the U.S. As such, it requires a prescription to be legally obtained, and a medical provider must monitor its use.
Composition
Drostanolone Propionate is listed by the World Health Organization (WHO) as the Drostanolone Propionate ester of Drostanolone. It is a synthetic androgen and anabolic steroid, which is known to be five times more potent than natural testosterone, providing a greater overall anabolic effect. This drug is also known to have fewer side effects due to its short-life in the body. Its active ingredient is comprised of the recombinant form of human testosterone, bound to the propionic acid ester, a common organic acid.
Definition
Drostanolone Propionate is defined as an androgenic-anabolic steroid that is derived from the metabolism of testosterone. It is an anabolic steroid that has a unique structure, featuring a C17-alpha alkylation, which renders it resistant to break down in the body. This property, combined with the shorter half-life of the propionic acid ester, makes it ideal for bodybuilding and other athletic pursuits, due to its ability to provide an instantaneous anabolic effect, with minimal side effects and toxicities.
Active Life
The active life of Drostanolone Propionate is relatively short. This is due to its propionic acid ester, which is rapidly absorbed and broken down by the body's metabolic processes. As such, the active life of this steroid is typically 2-3 weeks.
Pharmacology
The pharmacology of Drostanolone Propionate involves the administration of the drug into human cells, wherein it will be broken down by cellular enzymes. This results in the subsequent release of the active hormone, drostanolone, which binds to the androgen receptors of cells and then initiates downstream effects that lead to greater muscle growth and repair.
Interactions
When taken with other medications, Drostanolone Propionate may interact in a negative way. This is due to the unwanted drug-drug interactions when various hormones, enzymes, and metabolites bind to each other, resulting in medication that cannot be broken down or neutralized in the body. It is important to be aware of any drug-drug interactions you may be having with Drostanolone Propionate, and to seek the advice of your medical provider if you experience any adverse effects.
Precautions
Always consult a doctor before using Drostanolone Propionate. It is important to note that the potential risks of Drostanolone Propionate are subject to individuals. Factors such as pre-existing health conditions, lifestyle choices, and age can influence the effects of any potential side effects. As such, precaution should always be taken when using this drug, and a specialist's advice should be sought when considering its use.
Uses
Drostanolone Propionate is commonly used as a cutting agent by bodybuilders and those looking to reduce body fat in order to gain lean muscle. It helps to retain existing muscle, while also promoting greater levels of lean muscle mass in the user.
Dosage
Drostanolone Propionate doses vary from person to person, as it is affected by many factors including pre-existing health conditions and user goals. Generally, the recommended dosage for men is 200-600mg a week, while women should take 50-100mg a week.
Half-Life
The half-life of Drostanolone Propionate is just 2-3 days, meaning its effect will last up to a week before diminishing. This property makes it particularly ideal for users who want to maintain their results on a more regular basis, without needing to take a large dose all at once.
Cycle
Cycling with Drostanolone Propionate is typically done on a 4-12 week cycle, with a 6-8 week duration being the most common. After the cycle is completed, it is suggested that a post cycle therapy be implemented, as Drostanolone Propionate can suppress the body's natural production of testosterone.
Legal
In the United States, Drostanolone Propionate is classified as a Schedule III controlled substance. As such, it is illegal to purchase or use this drug without a prescription from a medical provider. In addition, it is important to note that it is illegal to import or distribute this drug for non-medical uses.
Benefits
Drostanolone Propionate is a popular drug among bodybuilders, as it provides several benefits. These include increased protein synthesis, which aids in muscle repair and growth, an increased ability to burn fat, and improved strength and power.
Results
Results from taking Drostanolone Propionate can vary from person to person. However, some common outcomes include increased muscle mass, reduced body fat, and increased vascularity and definition in the muscles. In addition, users may experience an increase in their strength and power output.
Side Effects
Despite its many benefits, Drostanolone Propionate has potential side effects. These include hair loss, gynecomastia, acne, irritability, headaches, and insomnia. It is important to monitor yourself while taking this drug and to inform your doctor of any adverse symptoms you experience.
Reviews
Reviews for Drostanolone Propionate are generally positive, with users lauding its ability to help them achieve their bodybuilding and weight loss goals. However, it is important to do your own research and consider the potential side effects before buying this drug.
US Domestic Shipping
Drostanolone Propionate can be purchased from many domestic sources, including online. It is important to check that the source is reputable and trustworthy, as quality and purity can vary vastly between suppliers. Ensure that the supplier carries quality products with accurate labels, as well as valid prescriptions from medical providers. It is also important to note that Drostanolone Propionate is a controlled substance in the United States and it is only legal to purchase it with a valid prescription. As such, it is illegal to purchase this drug without a prescription.
Stacking
Stacking is the combining of two or more different steroids in order to maximize their individual effects. When stacking with Drostanolone Propionate, users should take care to know the effects of each compound, ensuring the two do not interact in a negative way while in the body.
Storage
Drostanolone Propionate should always be stored at room temperature away from heat, light, and moisture. In addition, it should be kept out of the reach of children and pets, as it is a controlled substance in the United States and should only be taken with the valid prescription of a medical provider.
Brand Names
Drostanolone Propionate is often sold under various brand names, such as Masteron, Mastabol, and Mastibolin.
Price
The price of Drostanolone Propionate depends on the source and the brand, as well as any discounts or bulk deals that may be available. It is important to compare pricing before buying, to ensure you are getting the best deal.
Warnings
A medical provider's advice should always be sought prior to taking Drostanolone Propionate, even if it is a prescribed medication. As it is a controlled substance, any use should be monitored closely and any side effects experienced should be reported to the doctor. Regular check-ups should also be undertaken to monitor the effects of the drug and any changes in health should be reported.
For more info about product discount/promo – Contact Our Customer Support
References:
Please log in to write Ultima-Drostan P 100 review.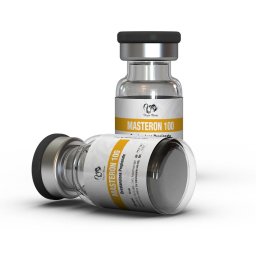 10 ml - 100 mg/ml
Drug Class: Anabolic Androgenic Steroid Injection
Administration: Intramuscular Injection
Manufacturer (Brand): Dragon Pharma, Europe
Chemical Substance: Drostanolone Propionate
Strength: 100 mg/ml
Unit: 1 VIAL x 10 ml [Sterile Multiple Dose]
10 ml - 100 mg/ml
Drug Class: Anabolic Androgenic Steroid Injection
Administration: Intramuscular Injection
Manufacturer (Brand): Genetic Pharmaceuticals
Chemical Substance: Drostanolone Propionate
Strength: 100 mg/ml
Unit: 1 vial (10 ml/vial)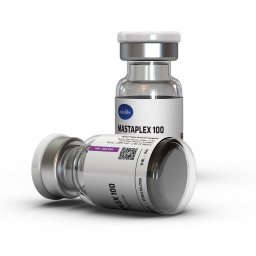 10 ml - 100 mg/ml
Drug Class: Anabolic Androgenic Steroid Injection
Administration: Intramuscular Injection
Manufacturer (Brand): Axiolabs
Chemical Substance: Drostanolone Propionate
Strength: 100 mg/ml
Unit: 1 vial (10 ml/vial)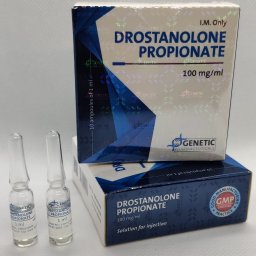 10 amps - 100 mg/ml
Drug Class: Anabolic Androgenic Steroid Injection
Administration: Intramuscular Injection
Manufacturer (Brand): Genetic Pharmaceuticals
Chemical Substance: Drostanolone Propionate
Strength: 100 mg/ml
Unit: 10 amps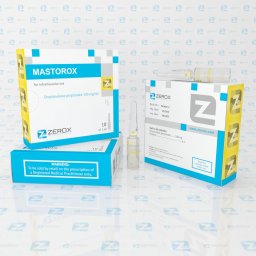 10 amps - 100mg/ml
Drug Class: Anabolic Androgenic Steroid Injection
Administration: Intramuscular Injection
Manufacturer (Brand): ZZerox Pharmaceuticals
Chemical Substance: Drostanolone Propionate
Strength: 100 mg/ml
Unit: 10 amps