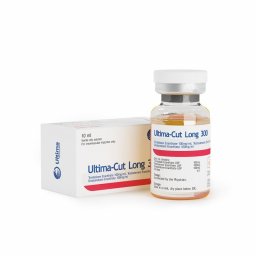 Ultima Pharma (US Domestic)
Ultima-Cut Long 300
Drug Class: Anabolic Androgenic Steroid Injection
Administration: Intramuscular Injection
Manufacturer (Brand): Ultima Pharmaceuticals
Chemical Substance: Trenbolone Enanthate, Testosterone Enanthate, Drostanolone Enanthate
Strength: 300 mg/ml
Unit: 1 vial (10 ml/vial)
ONLY US DOMESTIC
Ultima-Cut Long 300 Detailed
WHAT IS ULTIMA CUT-LONG? | Ultima Pharmaceuticals Supplier
Legit Ultima Pharma Steroids | Buy Steroids Mix for Sale
Ultima Cut-Long for Sale: Uses, Dosage, Cycle, Benefits, Side Effects & Reviews
Steroids Blend (also known as Steroid Mix or a Steroid Stack) is a combination of different anabolic androgenic steroids taken for muscle and strength growth, improved recovery, and overall enhanced performance. It is a mixture of two or more types of steroids, usually designed to help compound the effects of the drugs and to reduce the side effects that can result from one drug being taken alone.
Prescription:
Steroid blends are often prescribed together with other medications to help treat a variety of illnesses. Different combinations can produce different results, and are sometimes chosen to provide a specific benefit. Because of the various components of a steroid blend, it is important that any prescribed blend be monitored and adjusted as needed, as interactions can cause a lessening or increase in effectiveness of either drug.
Pharmacology:
Steroid blend pharmacology is the study of how two or more drugs interact in the body. At times, steroids can create a synergistic effect, where the combined effects are greater than the individual components. In other cases, the components can counteract each other, reducing the observable effects. When considering a steroid blend, it is important to assess the individual drugs and their interactions carefully in order to avoid any potential for diminished effects or additional side effects.
Interactions:
When designing a Steroid mix, it is important to consider the possible interactions of the drugs in the blend. For example, taking a combination of drugs which have similar effects, such as two different anabolic steroids, can lead to an undesired side effect known as an 'overdose'. As steroids often interact with the body's natural hormones, it is important to consider the various interactions in order to avoid unnecessary effects.
Precautions:
Before taking any steroid blend, it is essential to assess the possible interactions and side effects that the combination may cause. Therefore, it is important to understand the possible risks of using a certain steroid blend and ensure that you are aware of the effects of all drugs included.
Uses:
Steroid blends are used for a variety of reasons. Most commonly, they are used for increasing muscle size and strength, improving performance, and for enhanced recovery. Many athletes use steroid blends to help enhance their results and speed up recovery times.
Half-Life:
The half-life of a steroid blend is dependent on the two or more individual drugs in the blend. The half-life is the time it takes for half of the medication or drug to be eliminated from the body, and is measured in hours.
Dosage:
The appropriate dosage of a steroid blend will depend on the individual components and their respective dosages. A physician or professional can help decide the appropriate dosage of a blend, as different types of steroids may require different amounts.
Cycle:
A cycle is a period of time during which individuals use a specific type of steroid. The length of a cycle can be shorter or longer, and is dependent on the person's goals and current physical condition. The cycle length can also vary with different types of steroids.
Overdose:
Overdosing on steroids is a potential side effect of taking a steroid blend. Overdosing can cause a number of side effects, including liver damage, heart attack, stroke, and even death. Therefore, it is important to ensure that the dosage used is appropriate for the individual using the drugs, and that any warnings from a physician or professional should be followed.
Legal:
Different countries have different laws regarding the use and distribution of steroids. In the United States, the sale and purchase of steroids is illegal without a prescription from a medical professional. However, some countries, such as Mexico and Thailand, have more permissive regulations.
Benefits:
The benefits of a steroid blend are contingent upon the type of blend used, as well as the individual's dosage and regimen. Generally, a blend can provide an overall increase in muscle mass, strength, and energy. It can also reduce the amount of time needed for recovery, allowing one to return to training more quickly.
Results:
The results of a steroid blend will vary with each individual, as well as the specific blend used. The effects on muscle mass, strength, and energy can be noticed within the first few weeks of use, depending on the individual's body type and dosages used.
Side Effects:
Side effects of steroid blends can include anxiety, insomnia, high blood pressure, and other potential side effects. These should be taken into consideration when determining a dosage for an individual.
Bodybuilding:
Bodybuilding can be significantly aided by the use of a steroid mix. By increasing the amount of lean muscle mass, strength, and increased recovery, bodybuilders can get the results they want more quickly, and with fewer risks.
Reviews:
Reviews of steroid blends are widely available online and in magazines. Reading reviews can help individuals decide which blend is best for their specific situation and goals.
US Domestic Shipping:
Many online and physical stores offer domestic shipping within the United States. This helps to ensure that the needed supplies arrive within a reasonable time frame.
Stacking:
Stacking is the practice of taking multiple types of steroids in order to achieve a desired result. When stacking, it is important to be aware of the risks and side effects associated with each drug, and to consider the possible interaction between the drugs.
Brand Names:
Popular brand names of steroid blends include Sustanon, Testosterone Enanthate, Trenbolone, and Anavar. It is important to note that while brands can be the same, they often vary in terms of the active ingredients, which can affect the results.
In conclusion, steroid blends can be beneficial for muscle and strength building. However, it is important to be aware of the safety and legal implications of taking steroids, as well as the potentially dangerous side effects and interactions. As always, it is recommended to consult with a medical professional before beginning a cycle of steroids.
For more info about product discount/promo – Contact Our Customer Support
References:
Please log in to write Ultima-Cut Long 300 review.