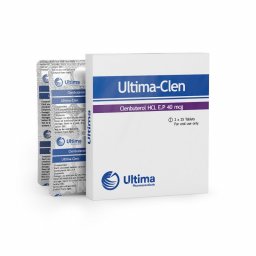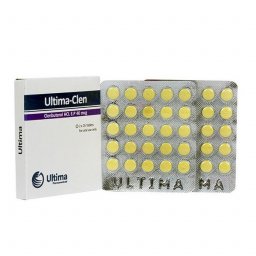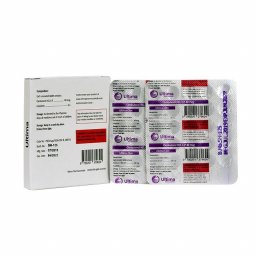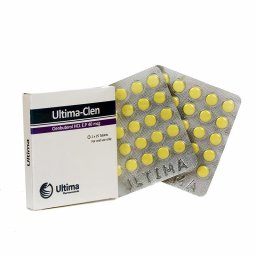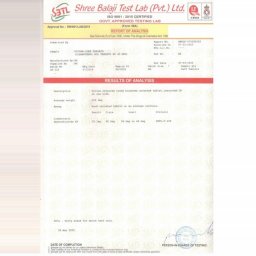 Ultima Pharma (US Domestic)
Ultima-Clen
Drug Class: Beta-2 agonist, bronchodilator
Administration: Oral use
Manufacturer (Brand): Ultima Pharmaceuticals
Chemical Substance: Clenbuterol Hydrochloride
Strength: 40 mcg/tab
Unit: 50 tabs
ONLY US DOMESTIC
Ultima-Clen Detailed
WHAT IS ULTIMA-CLEN? | Ultima Pharmaceuticals Supplier
Legit Ultima Pharma Steroids | Buy Clenbuterol for Sale
Ultima-Clen for Sale: Uses, Dosage, Cycle, Benefits, Side Effects & Reviews
What is Clenbuterol Hydrochloride (Clen)? Clenbuterol Hydrochloride, commonly referred to as "Clen", is a sympathomimetic used in treatment of breathing problems such as asthma. Clen belongs to a class of drugs known as "beta-2 agonists", which are very intensive in their action upon the respiratory system. Clen is also gaining popularity among bodybuilders and athletes as an extremely effective fat burning agent.
Prescription: To obtain a prescription for Clen in the United States, a physician must prescribe it for its intended medical use. For example, it can be prescribed for asthma, COPD, and other respiratory ailments.
Pharmacology and Interactions: Clenbuterol Hydrochloride is a sympathomimetic amine that stimulates both the beta-1 and beta-2 receptors in the body, causing the sympathetic nervous system to be activated, producing effects such as increased heart rate, improved breathing, and increased release of glucose and fatty acids. Clen interacts with many different medications, so it is important to check with a physician prior to taking Clen and to find out whether any changes need to be made in the medications currently being taken.
Precautions: Clen can be quite powerful, therefore it is wise to adhere to the recommended dosage, especially when starting out. Clen should not be used by individuals with high blood pressure, cardiovascular disease, heart arrhythmias, or other heart-related medical conditions. It should also not be used by pregnant or breastfeeding women, or those who have had seizures in the past.
Uses: Although Clen is primarily used for the treatment of asthma, it can also be used in combination with other medications to aid in the treatment of other respiratory ailments such as COPD. Taking Clen can also help with weight loss and can act as an appetite suppressant. In some individuals it can also increase muscle mass.
Half-Life: Clenbuterol Hydrochloride has a half-life of approximately 24-36 hours, meaning that it remains active within the body between 12-18 hours after administration.
Dosage: For those taking Clen for medical purposes, the recommended dosage for adults is 20-40mcg per day. Those who are looking to use Clen for fat loss and bodybuilding often increase the dosage to 60-120mcg per day, however, this is not recommended as it can lead to adverse health effects.
Cycle: For maximum fat loss, Clen should be cycled to avoid the body from becoming desensitized to it. Cycling involves taking the medication on certain days and then taking off certain days for the same time period.
Overdose: An overdose of Clenbuterol Hydrochloride can lead to effects such as muscle cramps, increased heart rate, dizziness, and nausea. If an individual experiences any of these symptoms they should seek medical attention immediately.
Legal: Clenbuterol is an illegal drug in many countries, including the United States where it is classified as a Schedule IV controlled substance and is a federal crime to possess or use without a prescription.
Benefits: Clen has many benefits such as aiding with weight loss and increasing muscle mass, as well as increasing energy levels and improving respiratory functioning.
Results: Clenbuterol Hydrochloride can lead to dramatic fat burning results, but these results depend on the individual and the dose used.
Side Effects: Common side effects of Clenbuterol may include anxiety, increased body temperature, increased sweating, dizziness, insomnia, and headaches.
Bodybuilding: Clenbuterol Hydrochloride can be used by bodybuilders to help burn fat, increase energy levels, and increase muscle mass. It should be used with caution as excessive use can lead to adverse side effects.
Reviews: While there is a lot of information out there on Clenbuterol Hydrochloride, it is important to remember to read reviews from a variety of sources to form an opinion.
US Domestic Shipping: Clenbuterol Hydrochloride must be shipped in the United States using registered mail, which requires delivery within a certain time period and allows the package to be tracked.
Stacking: Clenbuterol Hydrochloride can be combined with other drugs such as ephedrine or anabolic steroids to produce more dramatic results, however, this is not recommended as it can lead to adverse side effects.
Brand Names: Clen is available under many different brand names, such as Broncotron, Dilatol, Dilaterol, Dilaudid, Dilutol, Euthasol, Parnil, Sostale, THP-Plus, and Ventol.
In conclusion, Clenbuterol Hydrochloride is a powerful medication that can be used to treat a variety of ailments from asthma to obesity. It is important to research the medication before use, to follow the dosage guidelines provided, and to be aware of the potential side effects that may occur with use.
For more info about product discount/promo – Contact Our Customer Support
View Results:

Ultima-Clen

Analysis Report by "Shree Balaji LTD." - Clenbuterol Lab Test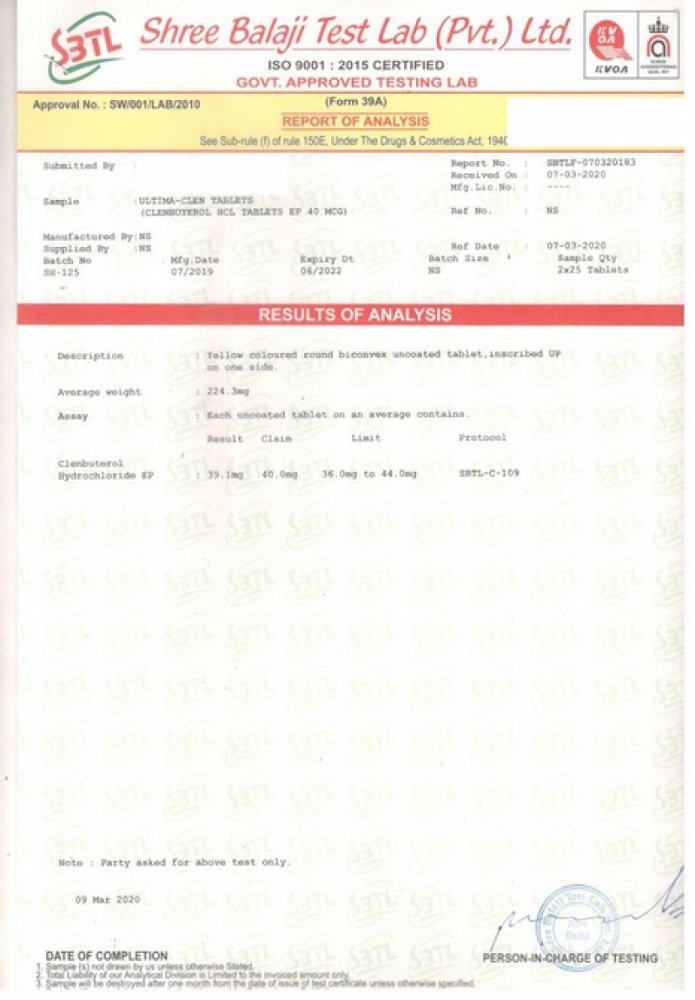 References:
Please log in to write Ultima-Clen review.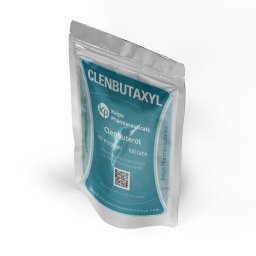 100 tabs - 40 mcg/tab
Drug Class: Beta-2 agonist, bronchodilator
Administration: Oral use
Manufacturer (Brand): Kalpa Pharmaceuticals, India
Chemical Substance: Clenbuterol Hydrochloride
Strength: 40 mcg/tab
Unit: 100 tabs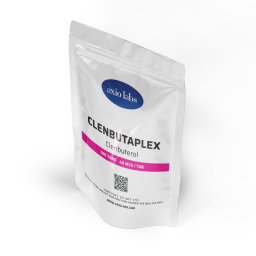 100 tabs - 40 mcg/tab
Drug Class: Beta-2 agonist, bronchodilator
Administration: Oral use
Manufacturer (Brand): Axiolabs
Chemical Substance: Clenbuterol Hydrochloride
Strength: 40 mcg/tab
Unit: 100 tabs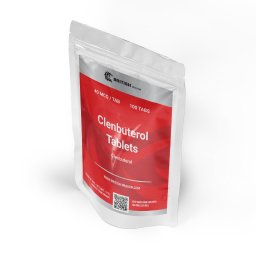 100 tabs - 40 mcg/tab
Drug Class: Beta-2 agonist, bronchodilator
Administration: Oral use
Manufacturer (Brand): British Dragon Pharmaceuticals
Chemical Substance: Clenbuterol Hydrochloride
Strength: 40 mcg/tab
Unit: 100 tabs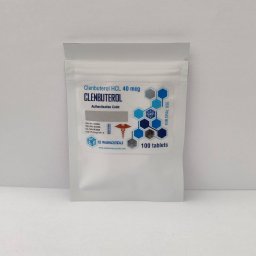 100 tabs - 40 mcg
Drug Class: Beta-2 agonist, bronchodilator
Administration: Oral use
Manufacturer (Brand): Ice Pharmaceuticals
Chemical Substance: Clenbuterol Hydrochloride (HCL)
Strength: 40 mcg/tab
Unit: 100 tabs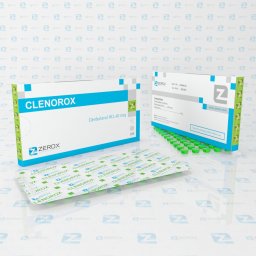 100 tabs - 40 mcg/tab
Drug Class: Beta-2 agonist, bronchodilator
Administration: Oral use
Manufacturer (Brand): ZZerox Pharmaceuticals
Chemical Substance: Clenbuterol Hydrochloride
Strength: 40 mcg/tab
Unit: 100 tabs