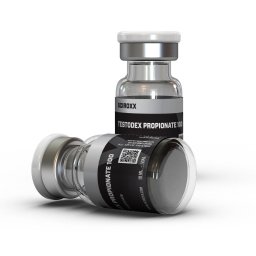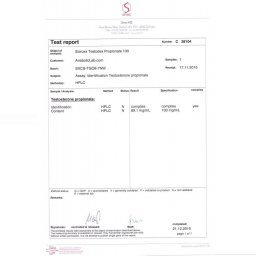 Sciroxx Labs
Testodex Propionate 100
Drug Class: Anabolic Androgenic Steroid Injection
Administration: Intramuscular Injection
Manufacturer (Brand): Sciroxx
Chemical Substance: Testosterone Propionate
Strength: 100 mg/ml
Unit: 1 vial (10 ml/vial)
Testodex Propionate 100 Detailed
WHAT IS TESTODEX PROPIONATE 100? | Sciroxx Supplier
Legit Sciroxx Steroids | Buy Testosterone Propionate for Sale
Testodex Propionate 100 for Sale: Uses, Dosage, Cycle, Benefits, Side Effects & Reviews
Testosterone Propionate (TP) is an anabolic-androgenic steroid that has been prescribed in the United States by healthcare professionals since the 1950s. It is available in numerous brand names and forms. It is generally an injectable steroid, although it is sometimes prescribed in pill form. It is a combination of four different compounds linked together, and works to help people with a variety of ailments and muscular or strength-building needs. It is commonly used as a muscle-building performance-enhancing aid.
The prescription of TP is often predicated on a variety of factors, such as the medical history of the patient, their age, any existing pre-existing health conditions or other medical matters that could reduce its safety and efficacy. Generally it is recommended as a safe alternative to other steroids, but as with all drugs, it should be carefully monitored and used responsibly.
In terms of pharmacology, TP is an artificial form of the naturally occurring hormone testosterone. It is a schedule III controlled substance according to the US Drug Enforcement Administration (DEA). Its main usage is to treat male patients suffering from a testosterone deficiency; however, it can also be used to increase muscle mass in bodybuilders and other athletes. TP typically does not cause the side effects typically exhibited by other types of anabolic steroids, though it can produce some unwanted consequences.
It is important to note that TP does not work in isolation. It must also be used alongside other medications for maximum benefit. For this reason, it is important to follow any instructions from a medical professional when being prescribed TP. It is also important to talk to your doctor if you are considering using TP while taking any other medication, as it may interact with them.
When discussing the usage of TP, it is also important to discuss its related precautions. It is advised that women not use TP as it is a potent androgenic steroid. In addition, TP should not be used by individuals below 18 years of age, as they would not be able to receive the proper medical advice and supervision when taking the drug. In addition, anyone with anemia, liver disease, a history of kidney disease, and/or abnormal liver enzymes should also not use TP.
The half-life of TP is relatively short, usually ranging from 2-4 days. This means that the effects of the drug peak around 24 hours after use and slowly decrease for the duration of the half-life. It is recommended that those who use TP take it multiple times a week and at the same time each day to maintain a consistent effect.
It is generally prescribed to be injected daily or every other day. The dosage, or amount of the drug taken, is largely determined by the medical professional, and is usually based on the patient's body weight and medical history. TP is usually taken in cycles, meaning that the patient will take it for a predetermined period of time, pause for another period of time, and then begin again. It is not recommended to use TP for periods longer than six weeks because of the possibility of it having an impact on cholesterol levels and overall health.
It is important to note that TP should never be taken in excessive amounts. Doing so can increase the likelihood of experiencing side effects or other health complications. If a patient experiences any concerning side effects, they should discontinue use and contact their medical doctor immediately.
The legal use of TP does not necessarily mean that it is free from risk. As with any drug, it is important to follow all instructions for it, both ones that are legally mandated and those given by a medical professional. It is also important to keep any brand names of TP always in loose packaging and out of the reach of children so that it is not misused. Furthermore, any expiration dates should be followed as instructed and disposing of any unused drugs should be done safely and properly.
The potential benefits of TP can include increased muscle mass, decreased fatigue, and improved cognitive and physical performance. Many user reviews of the drug describe increased strength, increased sex drive, and improved overall wellbeing. Given these benefits, it is a popular drug among the bodybuilding community.
As with any drug, TP comes with its own list of potential side effects. The most common side effects include increased heart rate, blood pressure, water retention and acne, deepening of the voice and hair loss. More serious side effects include changes in LDL and HDL cholesterol, increase in liver enzymes, and psychological effects, such as depression and aggression. If side effects become worse or heightened, the patient should directly contact their medical doctor immediately.
TP is used for a variety of bodybuilding and performance-enhancing purposes. It may increase the user's ability to maintain an anabolic state and increase muscle mass, as well as reduce body fat while performing more exercise and/or training. In addition to helping with strength and muscle performance, TP may also increase libido and improve mood and energy levels.
The reviews of TP are largely positive, with many users describing it as a powerful Drug with many benefits. However, it is important to note that there are risks associated with using TP, and it is important to follow the instructions given by a medical professional when taking it.
In terms of its availability, TP is available through US domestic shipping, meaning that it can be ordered and shipped to the United States. Some suppliers also offer other prices in various currencies.
Stacking TP with other anabolic-androgenic steroids or other performance-enhancing drugs is generally discouraged, as combination use can increase the likelihood of side effects. Furthermore, if this combination is looked at as a single compound, it may be classified as a controlled substance, which can carry criminal penalties.
Testosterone Propionate is available under a variety of brand names, such as Andro PROPENE, Androgen, Depotrons, Depo-Testosterone, Testosterone R, and Testosterone Blu.
Injecting TP is the most common method of use. It is available in varying doses, with each dose typically lasting 24-48 hours. It is important to follow the doctor's instructions when administering the drug via injection.
In terms of an overdose, it is important to note that using TP in more than a medically prescribed amount can lead to serious and potentially dangerous side effects. If a patient is unable to control their respiration, heart rate, or other signs of an overdose, they should seek immediate medical attention.
In summary, Testosterone Propionate is an anabolic-androgenic steroid that has been prescribed in the United States since the 1950s. It is a potent androgenic steroid, so it is advised that women not use it. It is primarily used to treat testosterone deficiencies or to help promote muscle growth and strength in bodybuilders and other athletes. It should be used responsibly and as instructed by a doctor, with the potential for serious side effects if used in excess. It is commonly used in combination with other medications and should always be used in conjunction with a medical professional's instructions.
For more info about product discount/promo – Contact Our Customer Support
View Results:

Sciroxx Testodex Propionate 100

Analysis Report by "Simec AG" - Sciroxx Testosterone Propionate Lab Test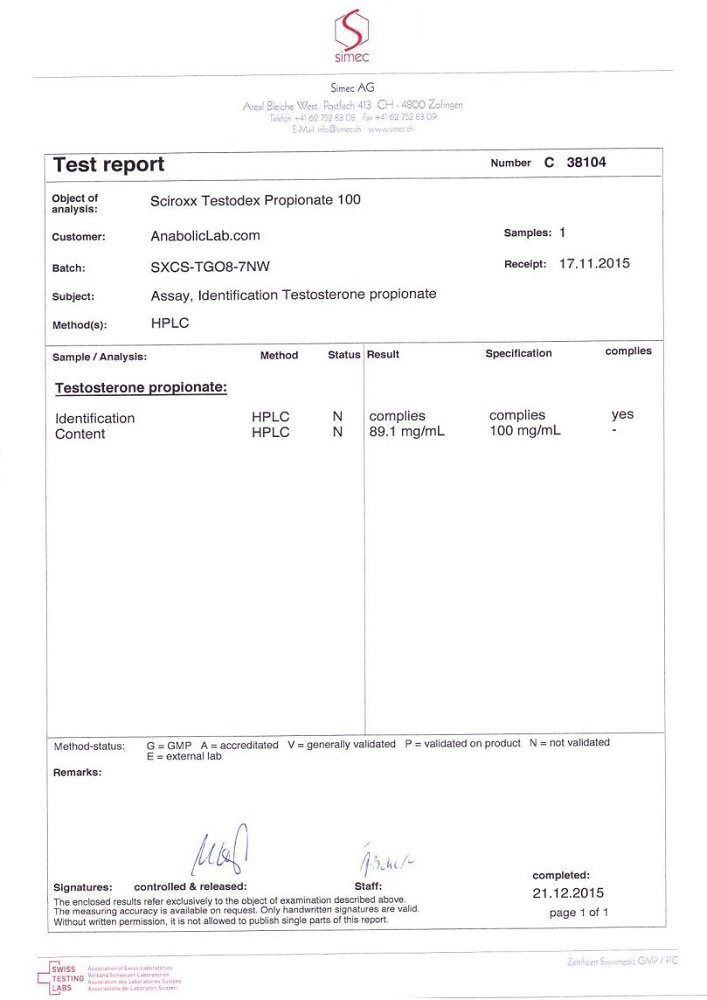 References:
Please log in to write Testodex Propionate 100 review.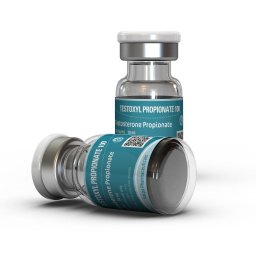 10 ml - 100 mg/ml
Drug Class: Anabolic Androgenic Steroid Injection
Administration: Intramuscular Injection
Manufacturer (Brand): Kalpa Pharmaceuticals, India
Chemical Substance: Testosterone Propionate
Strength: 100 mg/ml
Unit: 1 VIAL x 10 ml [Sterile Multiple Dose]
Average Dose: 1ml/EOD; 6-10 weeks;
Goal: Lean Mass, Cutting, Strength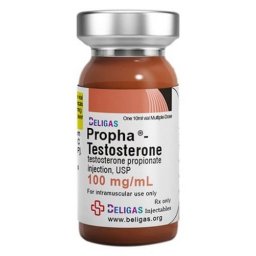 10 ml - 100 mg/ml
Drug Class: Anabolic Androgenic Steroid Injection
Administration: Intramuscular Injection
Manufacturer (Brand): Beligas Pharmaceuticals
Chemical Substance: Testosterone Propionate
Strength: 100 mg/ml
Unit: 1 vial (10 ml/vial)
Recommended Dose: 1ml/EOD; 6-10 weeks;
Goal: Lean Mass, Cutting, Strength
ONLY US DOMESTIC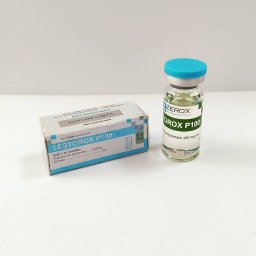 10 ml - 100 mg/ml
Drug Class: Anabolic Androgenic Steroid Injection
Administration: Intramuscular Injection
Manufacturer (Brand): Zerox Pharmaceuticals
Chemical Substance: Testosterone Propionate
Strength: 100 mg/ml
Unit: 1 VIAL x 10 ml [Sterile Multiple Dose]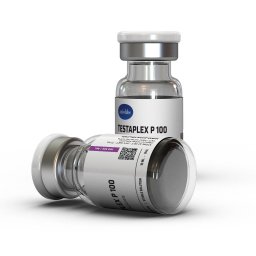 10 ml - 100 mg/ml
Drug Class: Anabolic Androgenic Steroid Injection
Administration: Intramuscular Injection
Manufacturer (Brand): Axiolabs
Chemical Substance: Testosterone Propionate
Strength: 100 mg/ml
Unit: 1 vial (10 ml/vial)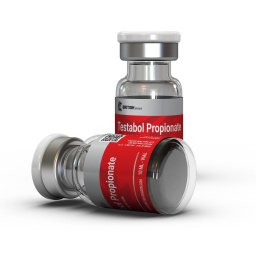 10 ml - 100 mg/vial
Drug Class: Anabolic Androgenic Steroid Injection
Administration: Intramuscular Injection
Manufacturer (Brand): British Dragon Pharmaceuticals
Chemical Substance: Testosterone Propionate
Strength: 100 mg/vial
Unit: 1 vial (10 ml/vial)