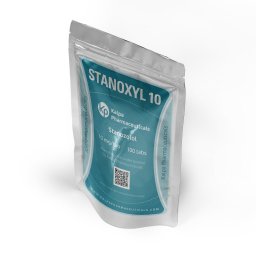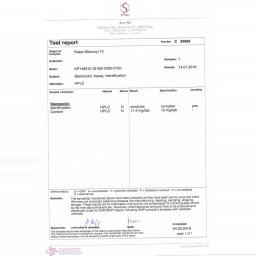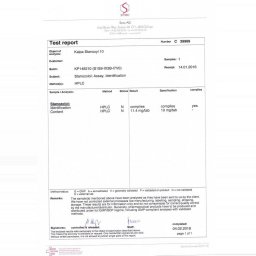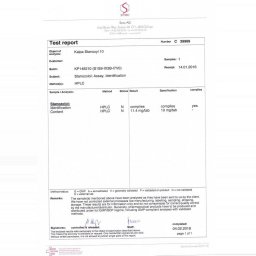 Kalpa Pharmaceuticals
Stanoxyl 10
Drug Class: Anabolic Androgenic Oral Steroid
Administration: Oral use
Manufacturer (Brand): Kalpa Pharmaceuticals, India
Chemical Substance: Stanozolol
Strength: 10 mg/tab
Unit: 100 tabs
Dosage: 40-50mg/day; 5-6 weeks;
Goal: Cutting
Stanoxyl 10 Detailed
WHAT IS STANOXYL 10 MG? | Kalpa Pharmaceuticals Supplier
Legit Kalpa Pharmaceuticals LTD, India | Buy Stanozolol for Sale
Stanoxyl 10 for Sale: Uses, Dosage, Cycle, Benefits, Side Effects & Reviews
Stanozolol, also known as its brand name Winstrol, is a very popular steroid among athletes and bodybuilders due to its various uses. It has powerful anabolic and androgenic properties which makes it effective in increasing strength, muscle mass, and reducing fat. Stanozolol was first developed in 1962 by Winthrop Laboratories and is a synthetic derivative of dihydrotestosterone (DHT). Furthermore, Stanozolol is available in both oral and injectable forms making it a favorite among athletes and bodybuilders wanting to maximize their performance and results.
Stanozolol 10mg uses can vary depending on the desired outcome. It is most commonly used to enhance athletic performance, build muscle mass, and reduce fat. It is also commonly used in the cutting phase of bodybuilding to burn fat and retain muscle gain. Stanozolol is also used by individuals looking to recover from an injury faster, increase muscle endurance and power, and to enhance immune function. It has also been used to protect against diseases such as osteoporosis and anemia.
While Stanozolol is seen as a great option for male users, it can also be used by females. The use of Stanozolol for women should be done with caution as it is known to have more androgenic effects in comparison to anabolic effects. Women should start with a lower dosage such as 5-10mg unless advised otherwise by their physician. The main benefits for female users include increased strength and improved endurance which can lead to improved performance in sports and fitness.
The Stanozolol dosage that is recommended will depend on the individual and the desired results. For most, a dosage of 25-50mg per day for four to eight weeks is generally sufficient for providing desired effects. Users should also monitor their blood pressure and cholesterol levels as an increase in both can occur with the use of Stanozolol. Cycling Stanozolol is also recommended as the physiological effects can diminish with continuous use, making it a good idea to cycle four weeks on and two weeks off to allow the body to recover.
Dosage for Men: 50-100 mg/day;
Dosage for Women: 25-50 mg/day;
Stanozolol and bodybuilding can go hand in hand when used properly. Since Stanozolol is known to increase muscle strength, power, and endurance it can be beneficial to bodybuilders who are trying to gain muscle mass and/or lose fat. The increased strength and endurance may allow bodybuilders to increase their training intensity which can help them reach their goals faster. However, it is important to note that Stanozolol should be part of a comprehensive training and nutrition plan to maximize results.
The results of taking Stanozolol will depend on the individual, their goals and their current levels of fitness. Generally, users and athletes can expect an overall improvement in strength and endurance, as well as an increase in muscle mass and a decrease in fat mass and body fat percentage. Additionally, many users have reported improvements in mood and increased ability to concentrate and focus on their training.
It is important to remember that there can be negative effects of taking Stanozolol which include an increase in bad cholesterol, increased risk of testicular shrinkage or gynecomastia, and the possibility of hair loss. It is important to monitor body systems as often as possible when taking Stanozolol in order to mitigate any unwanted side effects.
Stanozolol for sale is widely available from many online sources. It is essential to ensure that any Stanozolol for sale is quality, as low-grade products can have negative effects on the individual. Additionally, it is important to research the legality of purchasing and using Stanozolol in your country as it is a controlled substance in some countries.
Stanozolol stacking is another popular way to increase performance and maximize results. Stanozolol is often stacked with Anadrol and Clenbuterol, as well as other anabolic steroids, to provide an increase in muscle mass and strength. It is important to understand how the compounds will interact before combining them in order to reduce any potential risks.
Stanozolol reviews can offer insight into the experiences of users and athletes who have taken the compound. It is always important to remember that results will vary from person to person and to always discuss any supplement with a medical professional first to ensure its safe use.
Finally, it is important to understand the many Stanozolol brand names before purchasing. Winstrol is the most recognizable brand name, however, there are many generic forms available for purchase which can be just as effective. Ultimately, the goal is to purchase quality Stanozolol that is safe for use and will provide desired results.
For more info about product discount/promo – Contact Our Customer Support
View

Stanoxyl 10 Report

by Official Kalpa Wesite: "Lab Test by Simec AG" - Stanoxyl 10 Lab Test Results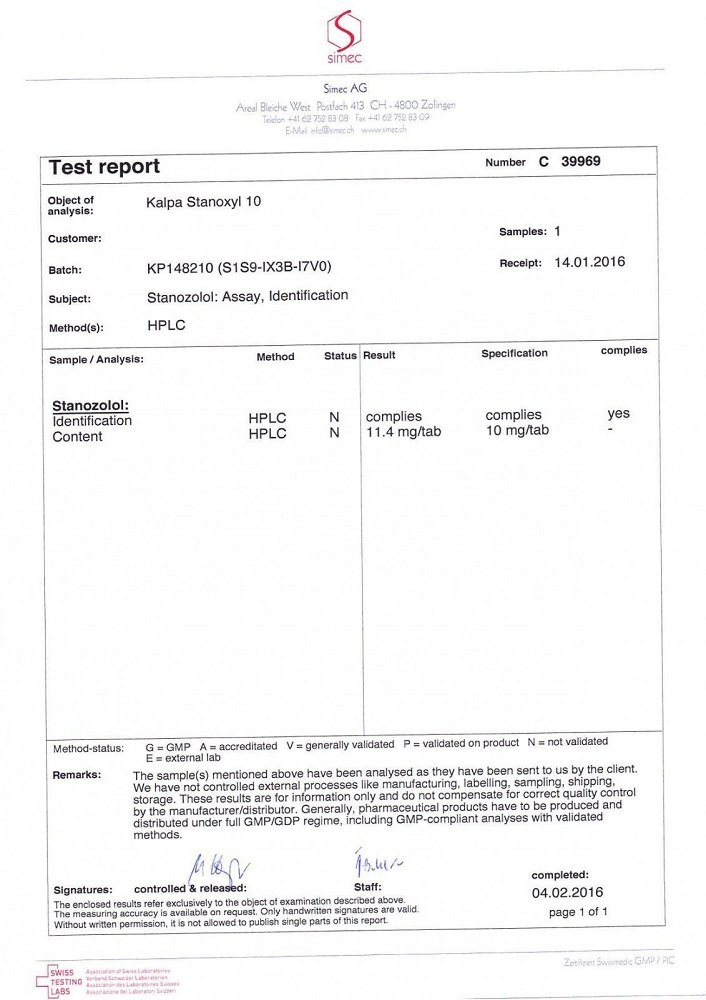 References:
Stanoxyl 10 Reviews
Please log in to write Stanoxyl 10 review.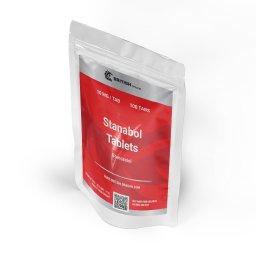 100 tabs - 10 mg/tab
Drug Class: Anabolic Androgenic Oral Steroid
Administration: Oral use
Manufacturer (Brand): British Dragon Pharmaceuticals
Chemical Substance: Stanozolol
Strength: 10 mg/tab
Unit: 100 tabs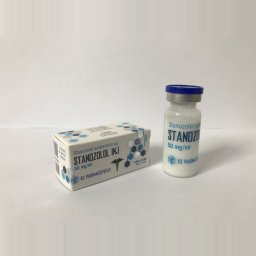 10 ml - 50 mg/ml
Drug Class: Anabolic Androgenic Steroid Injection
Administration: Intramuscular Injection
Manufacturer (Brand): Ice Pharmaceuticals
Chemical Substance: Stanozolol
Strength: 50 mg/ml
Unit: 1 vial (10 ml/vial)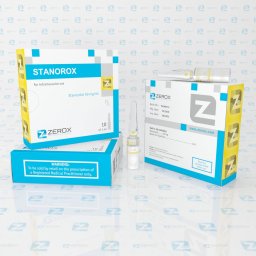 10 amps - 50mg/ml
Drug Class: Anabolic Androgenic Steroid Injection
Administration: Intramuscular Injection
Manufacturer (Brand): ZZerox Pharmaceuticals
Chemical Substance: Stanozolol
Strength: 50 mg/ml
Unit: 10 amps
10 ml - 50 mg/vial
Drug Class: Anabolic Androgenic Steroid Injection
Administration: Intramuscular Injection
Manufacturer (Brand): British Dragon Pharmaceuticals
Chemical Substance: Stanozolol
Strength: 50 mg/vial
Unit: 1 vial (10 ml/vial)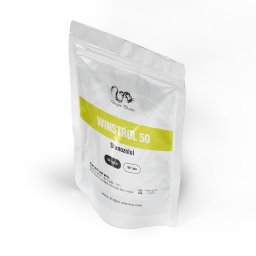 100 tabs - 50 mg/tab
Drug Class: Anabolic Androgenic Oral Steroid
Administration: Oral use
Manufacturer (Brand): Dragon Pharma
Chemical Substance: Stanozolol
Strength: 50 mg/tab
Unit: 100 tabs