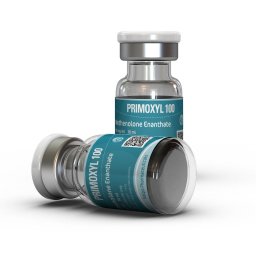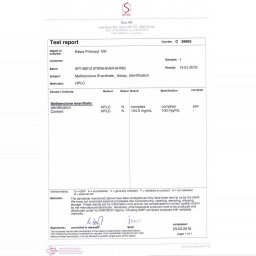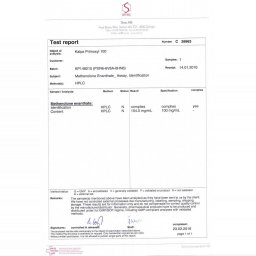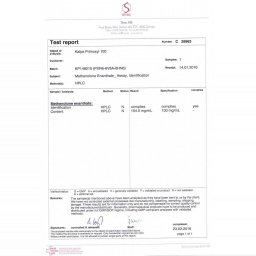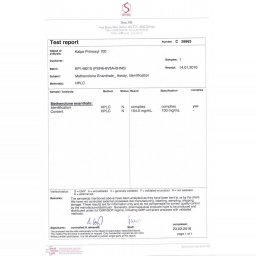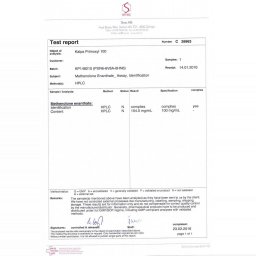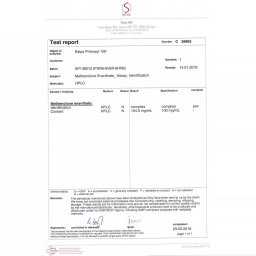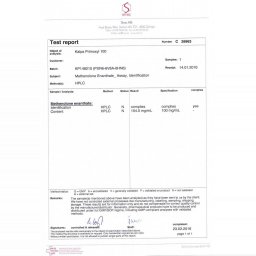 Kalpa Pharmaceuticals
Primoxyl 100
Drug Class: Anabolic Androgenic Steroid Injection
Administration: Intramuscular Injection
Manufacturer (Brand): Kalpa Pharmaceuticals, India
Chemical Substance: Methenolone Enanthate
Strength: 100 mg/ml
Unit: 1 VIAL x 10 ml [Sterile Multiple Dose]
Dosage: 600-1000mg/week ; 10-14 weeks;
Goal: Lean Mass
Primoxyl 100 Detailed
WHAT IS PRIMOXYL 100? | Kalpa Pharmaceuticals Supplier
Legit Kalpa Pharmaceuticals Anabolic | Buy Methenolone Enanthate for Sale
Primoxyl 100 for Sale: Uses, Dosage, Cycle, Benefits, Side Effects & Reviews
Primobolan Enanthate, also known as Methenolone Enanthate, is an androgen and anabolic steroid (AAS) developed and used by athletes and bodybuilders to improve muscular size, strength, and definition while reducing body fat. Primobolan Enanthate is a derivative of dihydroboldenone (DHB), a synthetic form of the naturally occurring steroid hormone testosterone. Primobolan Enanthate is a mild anabolic steroid compared to other popular anabolic steroids on the market, but it's still a potent and effective muscle enhancer. It is considered a "cutting" steroid, which means it promotes metabolism and stimulation of the metabolic rate while preserving lean muscle mass.
Primobolan Enanthate is typically used to build strength and size. It is one of the preferred steroids for bodybuilders looking to enhance muscle growth and definition without risking the side effects associated with other steroids. Primobolan Enanthate stimulates an increase in muscle protein synthesis, which is what causes the muscle growth. It also helps burn fat, as it increases thermogenesis, which suggests that it could be used safe for weight loss.
Primobolan Enanthate has a proven record of being safe and effective for men and women. It is widely used for aesthetic, physical performance, and endurance purposes and can be used for long-term cycles of 8-10 weeks. Its mild nature makes it safe for users and this low androgenic activity also reduces the risk of side effects. Primobolan Enanthate can also help users achieve significant muscle growth, although it may take longer than when using some other more potent anabolic steroids.
To enhance the effects of Primobolan Enanthate, users may stack it with a variety of other steroids. It is usually stacked with compounds like Trenbolone, Anadrol, Winstrol, and Methandienone. This can be an effective way to accelerate gains, allowing users to achieve the desired results faster. It is important to start with lower doses and gradually increase as needed in order to avoid any potential side effects.
Primobolan Enanthate does not affect testosterone levels in the same way that other androgenic steroids do, as it does not aromatize and convert to estrogen. This can be beneficial for those trying to avoid estrogenic side effects such as gynecomastia. Taking a selective aromatase inhibitor can also help control estrogen levels when using Primobolan Enanthate.
Methenolone Enanthate is a very popular anabolic androgenic steroid that is widely used among bodybuilders and athletes to enhance physical performance, improve muscle size, boost strength, and enhance overall health. It is an injectable steroid derived from dihydrotestosterone, and is also known as Primobolan. Methenolone Enanthate is mainly used to build mass, strength, and athletic performance while keeping fat levels low. It's considered somewhat mild in comparison to other steroids, and is best suited for people who are just starting to use steroids.
Methenolone Enanthate is typically formulated as an injectable solution and is administered intramuscularly. It is favored by many bodybuilders and athletes due to its fast-acting effects and low side-effects profile. After administration, the steroid rapidly enters the bloodstream and begins to increase nitrogen retention, protein synthesis, and red blood cell count. It is a very effective bulking agent that helps to rapidly increase lean muscle mass.
When using Methenolone Enanthate, it is important that users adhere to the recommended dosage schedule and monitor their results through regular blood tests. Generally, the recommended dosage for males is 200 to 600 milligrams per week, and for females, 50 to 100 milligrams per week. It should be taken in divided doses, and the injections should be evenly spaced out over the week in order to maximize results.
Methenolone Enanthate is widely used in the bodybuilding and athletic communities as a powerful steroid to enhance strength, power and muscle size. It also has some general therapeutic benefits, as it can help alleviate joint pain and aid in muscle recovery during intense exercises. Furthermore, Methenolone Enanthate can help reduce body fat and provide increases in lean muscle mass.
Overall, Methenolone Enanthate is considered a safe and effective steroid for athletes who are looking to increase strength, build muscle, and improve overall health. When used in a balanced and responsible manner, Methenolone Enanthate can provide users with proven results and minimal side effects. There are many positive feedbacks online from satisfied users, as well as many articles to back up the effectiveness and safety of Methenolone Enanthate.
In conclusion, Primobolan Enanthate is a mild anabolic steroid that has proven to be a safe and effective performance enhancer. Its low androgenic activity makes it an attractive choice for those looking to bulk up, cut fat, and gain strength without facing any of the side effects common with other anabolic steroids. It can be stacked with other steroids to increase its effects, but users should start with lower doses and slowly increase in order to avoid any potential side effects.
For more info about product discount/promo – Contact Our Customer Support
View

Primoxyl 100 Report

by Official Kalpa Wesite: "Lab Test by Simec AG" - Primoxyl 100 Lab Test Results
References:
Primoxyl 100 Reviews
Please log in to write Primoxyl 100 review.