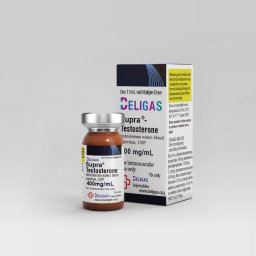 Beligas Pharma (US Domestic)
Supra-Testosterone 400
Drug Class: Anabolic Androgenic Steroid Injection
Administration: Intramuscular Injection
Manufacturer (Brand): Beligas Pharmaceuticals
Chemical Substance: Testosterone Decanoate, Testosterone Phenylpropionate, Testosterone Propionate, Testosterone Isocaproate
Strength: 400 mg/ml
Unit: 1 vial (10 ml/vial)
ONLY US DOMESTIC
Supra-Testosterone 400 Detailed
WHAT IS SUPRA-TESTOSTERONE 400mg? | Beligas Pharmaceuticals USA Supplier

Legit Beligas Pharmaceuticals Steroids | Buy Domestic Testosterone Mix for Sale
Supra Testosterone 400 for Sale: Uses, Dosage, Cycle, Benefits, Side Effects & Reviews
Testosterone blend (testosterone mix) is a combination of testosterone esters, formulated in one single product, generally used in hormone replacement therapy, as well as in bodybuilding, performance and strength enhancement.
Prescription: Testosterone Blend is a prescription-only medication, so it should only be used under the guidance of a physician or licensed medical practitioner. Generally, the physician will need to assess the patient's condition and decide the most suitable combination of testosterone ester for their metabolism, body composition, and lifestyle.
Pharmacology: Testosterone Blend is comprised of a combination of esters with different half-lives and pharmacological actions. Depending on the specific product, esters can vary between testosterone acetate, propionate, cypionate, enanthate, isocaproate, decanoate and phenylpropionate (Sustanon 250).
Interactions: Testosterone Blend may interact with other medications, including anticoagulants, anti-depressants, antihistamines and antihypertensives. It is important to inform your medical practitioner of any medications you are taking, in order to avoid potential complications.
Precautions: If a patient has a history of prostate issues or suffers from sleep apnea, it is important to take extra precautions before being prescribed Testosterone Blend. Additionally, other medical conditions such as liver or kidney diseases, stroke or heart attack should be discussed with the doctor, to ensure that testosterone therapy is an appropriate course of action.
Uses: Testosterone Blend is often prescribed as a form of hormone replacement therapy, to treat hypogonadism (a condition caused by not enough testosterone in the body). It is also commonly used by bodybuilders, strength athletes, and gym goers, to help promote muscle growth, boost energy levels, and strengthen libido.
Half-Life: The half-life of Testosterone Blend depends on the particular combination of esters used. Generally speaking, the half-life of testosterone esters range from 24-72 hours, though the exact timeline will vary from patient to patient.
Dosage: The dosage used for Testosterone Blend varies from patient to patient, depending on their body composition, lifestyle and medical history. A general guideline is 10-50mg every two to three days, though this can be adjusted depending on the patient's response and need.
Cycle: Generally, Testosterone Blend is either used as a replacement therapy, or during a cycle. In some cases, Testosterone Blend is taken in single doses during a cycle, for improved energy and libido, or in combination with other drugs and boosters.
Overdose: Taking too much Testosterone Blend can have serious side effects and risks. Overdose can potentially cause symptoms of increased aggression, increased urinary output, swollen hands and feet, vomiting, confusion and dislike of light. It can also cause long-term damage to the heart, liver and kidneys.
Legal: Testosterone Blend is a legal prescription-only medication. It is available in multiple forms and is legally available in many countries worldwide.
Benefits: Testosterone Blend has many potential benefits, ranging from improved muscle mass, enhanced strength, increased energy and libido, to increased mental clarity and improved mood. It is also believed to help reduce body fat, increase bone density and promote the body's healing processes.
Results: Results from taking Testosterone Blend will vary from person to person. It is important to note that it may take several weeks to start seeing any effects, and any visible results may not be seen for several months. In some cases, Testosterone Blend may provide greater benefits over time, as the body adjusts to more testosterone in the system.
Side Effects: Common side effects from using Testosterone Blend include increased aggressiveness, oily skin, increased body hair growth, breast tenderness, headaches and nausea. There is also an increased risk of heart attack and stroke associated with higher doses.
Bodybuilding: Testosterone Blend is a popular choice among bodybuilders and strength athletes. Generally, it should be used in cycles, as this is often found to be the most effective way to increase muscle size and strength.
Reviews: Reviews of Testosterone Blend can vary significantly depending on the individual's body composition, Cycle and metabolism. Many users report positive experiences and results, while others find that it may not be suitable for their needs and body type.
US Domestic Shipping: US domestic shipping of Testosterone Blend products is available at many online stores. It is important to ensure that the store is licensed and legitimate and that all relevant disclaimers are available on the site.
Stacking: Stacking Testosterone Blend with other anabolic steroids and/or boosters is mostly safe, though must be done with care. Generally, it is best only to use very low doses when stacking, as this may reduce the risk of side effects.
Testosterone blend is a powerful and versatile medication, which can provide significant physical and mental benefits. However, it should only be used under medical supervision and following medical advice, as there are significant side effects associated with its use.
For more info about product discount/promo – Contact Our Customer Support
References:
Please log in to write Supra-Testosterone 400 review.