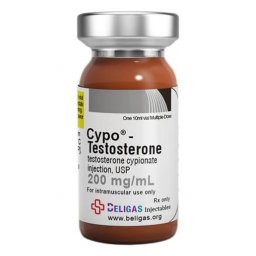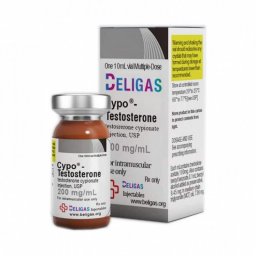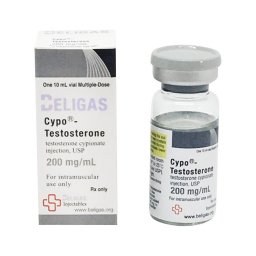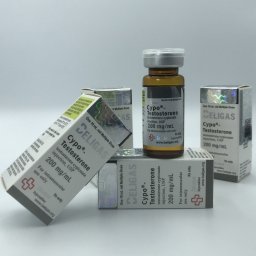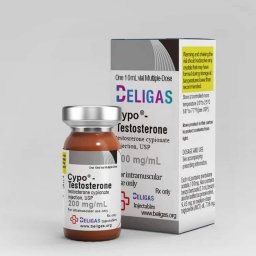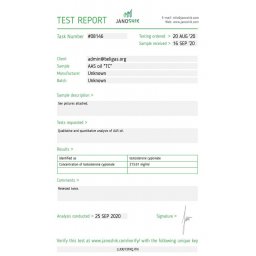 Beligas Pharma (US Domestic)
Cypo-Testosterone 200
Drug Class: Anabolic Androgenic Steroid Injection
Administration: Intramuscular Injection
Manufacturer (Brand): Beligas Pharmaceuticals
Chemical Substance: Testosterone Cypionate
Strength: 200 mg/ml
Unit: 1 vial (10 ml/vial)
ONLY US DOMESTIC
Cypo-Testosterone 200 Detailed
WHAT IS CYPO-TESTOSTERONE 200? | Beligas Pharmaceuticals USA Supplier

Legit Beligas Pharmaceuticals | Buy Domestic Testosterone Cypionate for Sale
Cypo-Testosterone 200 for Sale: Uses, Dosage, Cycle, Benefits, Side Effects & Reviews
Testosterone Cypionate is an injectable anabolic steroid hormone used for treating hypogonadism in men and for some clinical conditions related to androgen deficiencies. It is classified as a base ester of testosterone and is mostly found in the majority of testosterone blends. It is a long-acting version of the hormone with a half-life of more than seven days. Testosterone Cypionate has similar functions to other hormones and plays an important role in developing and maintaining masculine characteristics as well as promotes secondary sexual characteristics like increased muscle mass, bone density, and strength.
Profile
Testosterone Cypionate is a Schedule III controlled substance under the Anabolic Steroid Control Act of 1990 and the Controlled Substance Act (CSA). It is a prodrug form of testosterone that is utilized as a form of treatment for low testosterone levels, also known as testosterone replacement therapy (TRT). Testosterone Cypionate is composed of the natural androgen, testosterone, and a fatty acid ester known as cypionic acid. The fatty acid ester helps slow the release of testosterone in the bloodstream.
Composition
Testosterone cypionate consists of the active ingredient testosterone esterified with a fatty-acid ester known as cypionic acid. Testosterone esters are commonly found in many testosterone medications and are responsible for the duration of each injection due to the slow release of testosterone from the esterification process. Testosterone cypionate is slightly different than other testosterone progesterone esters such as enanthate as it has a slower rate of absorption and duration of action.
Definition
Testosterone Cypionate is an injectable anabolic androgenic hormone used to treat conditions caused by low hormone levels. It is a synthetic form of testosterone that is administered by intramuscularly injection. The fat soluble ester allows the testosterone to be released slowly into the bloodstream, resulting in a long-acting effect. This testosterone hormone is androgenic in nature and is used to treat hypogonadism and other conditions of low testosterone production.
Prescription
Testosterone cypionate is a prescription medication that is only available by prescription in the United States. It is a medication that should be prescribed by a physician trained in the area of TRT to determine the most appropriate dose and schedule of injections. The pharmaceutical company must be licensed to produce and distribute the product to a doctor. The injection may not be purchased over the counter.
Active Life
The active life of testosterone cypionate is approximately 7-8 days. This is because of the slow release of the hormone from the cypionic acid ester. It is essential that injections are scheduled every 7-8 days in order to maintain steady levels of testosterone. If the injections aren't done on time, the patient may experience a "roller coaster" effect in hormone levels.
Pharmacology
Testosterone cypionate is a medication that acts through its active form of testosterone. It exerts its actions by binding to androgen receptors in the body, similar to other testosterone medications. It then stimulates the production of proteins and other molecules that affect muscle growth, libido, and general health.
Interactions
Testosterone cypionate may interact with other medications. It is essential for patients to inform their doctor before starting a course of TrT if they are taking any other medications. Additionally, the medication should not be taken if pregnant, breastfeeding, or trying to conceive. Additionally, potential interactions with other hormones should be assessed before beginning a course of TrT.
Precautions
Due to the potential androgenic side effects, such as increases in aggression, oiliness of the skin, or mood swings, it is important to carefully monitor the use of testosterone cypionate. Additionally, being aware of the potential liver and cardiovascular risks associated with the medication is critical. In addition, patients should be aware of the potential for sleep apnea and breathing difficulties that can be caused by the medication.
Uses
Testosterone cypionate is primarily used by adults to treat hypogonadism, a condition that results in low levels of testosterone. Additionally, this compound may be used to treat delayed puberty, and some types of breast cancer. Testosterone cypionate is usually administered as an injection twice a week for several weeks until the desired effect is achieved.
Dosage
The dosage and frequency of testosterone cypionate used will vary from patient to patient. Generally, individual doses range from 200 to 600 milligrams per week. Some doctors may prescribe higher dosages for certain medical conditions, but it is important to not increase the dose without consulting a physician.
Half-Life
The half-life of testosterone cypionate is about 7 days. This means that after 7 days, half of the hormone will have been eliminated from the body. This is an important factor to consider when scheduling injections to ensure steady levels of the hormone.
Cycle
Testosterone cypionate is used in bodybuilding and fitness as part of an anabolic anabolic steroid cycle. It is used for lean muscle gains, increased strength and body mass, increased muscle endurance and improved recovery. It is usually taken for 8 to 12 weeks with other anabolic steroids such as Nandrolone and Trenbolone as part of a stack. During a cycle, testosterone cypionate should be administered twice a week, either on consecutive days or every four days.
Overdose
It is possible to overdose on testosterone cypionate if the dosage is higher than recommended or if the dosage is frequent. Signs and symptoms of an overdose may include headaches, nausea, vomiting, irritability, increased blood pressure, and increased risk of blood clots. If you suspect an overdosage, seek medical treatment immediately.
Legal
The use of testosterone cypionate is legal if prescribed and administered by a physician. However, it is a controlled substance and is subject to sale and distribution regulation by the U.S. Drug Enforcement Agency. Therefore, it cannot be bought from retail stores, online pharmacies, or other sources.
Benefits
Testosterone cypionate can be used to treat conditions such as hypogonadism, delayed puberty, and some types of breast cancer. It can increase the production of red blood cells, and can also improve libido, muscle mass, and strength, as well as help with recovery from workouts.
Results
Using testosterone cypionate as part of an anabolic steroid cycle can result in increased muscle mass, increased strength, improved performance and recovery, improved libido, and improved energy levels. For patients in TRT, it may result in improved quality of life, elevated mood, and improved quality of sleep.
Side Effects
Testosterone cypionate may cause a variety of side effects. These include acne, gynecomastia, increased aggression and irritability, a decrease in HDL ("good") cholesterol, an increase in LDL ("bad") cholesterol, decreased sperm production, and an increase in red blood cell count.
Bodybuilding
Testosterone cypionate is commonly used by bodybuilders or athletes to increase muscle mass, strength, and performance. It can help with recovery, increased libido, increased energy levels and improved performance. It must be used with care and should be cycled properly to reduce any potential negative side effects.
Reviews
Testosterone cypionate reviews from bodybuilders and athletes are mostly positive. It is generally praised for its anabolic properties that help increase muscle mass and strength. However, there are mixed reviews regarding its side effects which can include oily skin, hair loss, acne, and gynecomastia.
US Domestic Shipping
Testosterone cypionate is a restricted medication in the United States and is not available over-the-counter. It can only be obtained with a valid prescription from a doctor. While it is not currently available for sale online, it is possible to find reputable suppliers offering domestic shipping from within the United States.
Stacking
Testosterone cypionate is often stacked with other anabolic steroids such as Nandrolone and Trenbolone to increase muscle mass and strength. In addition, the drug can be stacked with other hormones such as human growth hormone (HGH) for increased performance and fat burning capacity.
Storage
Testosterone cypionate should be stored at room temperature (below 77°F). It should be protected from light and moisture and stored in its original container or as directed by the doctor. It should also be stored out of reach of children and pets to ensure it is not misused.
Brand Names
Testosterone cypionate is known by many brand names in the U.S. including Depo-Testosterone, Testosterone Cypionate, Testosterone-Cyp 200, and Testosterone Enanthate.
Warnings
Testosterone cypionate is a potent medication and must be used with caution. It can increase the risk of heart attack, stroke, and other cardiovascular issues. It can also cause liver issues, an increase in cholesterol levels, and an increase in aggression. It should not be taken during pregnancy, breastfeeding, or by anyone who has a pre-existing medical condition. Additionally, it's important to consult a healthcare provider before starting any testosterone cypionate protocol.
For more info about product discount/promo – Contact Our Customer Support
View Results:

Beligas Cypo-Testosterone

Analysis Report by "JANOSHIK" - Testosterone Cypionate Lab Test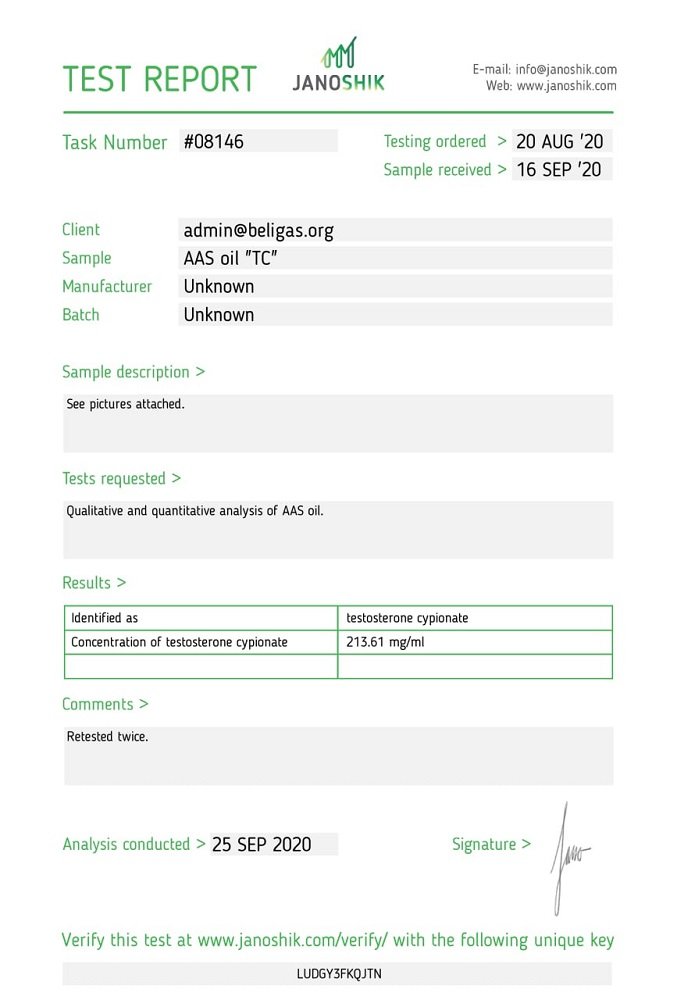 References:
Cypo-Testosterone 200 Reviews
Please log in to write Cypo-Testosterone 200 review.
10 ml - 250 mg/ml
Drug Class: Anabolic Androgenic Steroid Injection
Administration: Intramuscular Injection
Manufacturer (Brand): Dragon Pharma
Chemical Substance: Testosterone Cypionate
Strength: 250 mg/ml
Unit: 1 VIAL x 10 ml [Sterile Multiple Dose]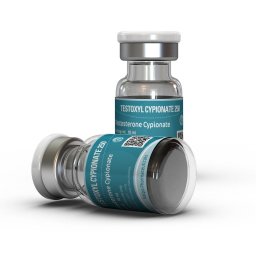 10 ml - 250 mg/ml
Drug Class: Anabolic Androgenic Steroid Injection
Administration: Intramuscular Injection
Manufacturer (Brand): Kalpa Pharmaceuticals, India
Chemical Substance: Testosterone Cypionate
Strength: 250 mg/ml
Unit: 1 VIAL x 10 ml [Sterile Multiple Dose]
Effective Dosage: 500mg/week; 8-12 weeks;
Goal: Bulking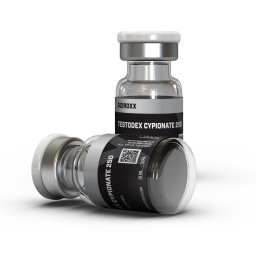 10 ml - 250 mg/ml
Drug Class: Anabolic Androgenic Steroid Injection
Administration: Intramuscular Injection
Manufacturer (Brand): Sciroxx
Chemical Substance: Testosterone Cypionate
Strength: 250 mg/vial
Unit: 1 vial (10 ml/vial)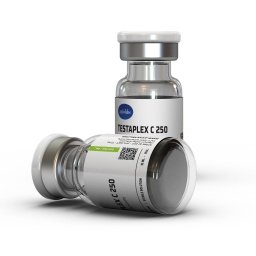 10 ml - 250 mg/ml
Drug Class: Anabolic Androgenic Steroid Injection
Administration: Intramuscular Injection
Manufacturer (Brand): Axiolabs
Chemical Substance: Testosterone Cypionate
Strength: 250 mg/ml
Unit: 1 vial (10 ml/vial)
10 amps - 250mg/ml
Drug Class: Anabolic Androgenic Steroid Injection
Administration: Intramuscular Injection
Manufacturer (Brand): ZZerox Pharmaceuticals
Chemical Substance: Testosterone Cypionate
Strength: 250 mg/ml
Unit: 10 amps