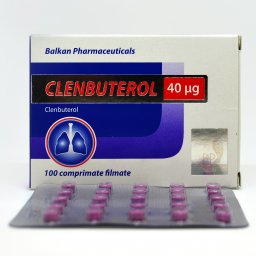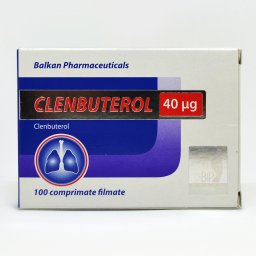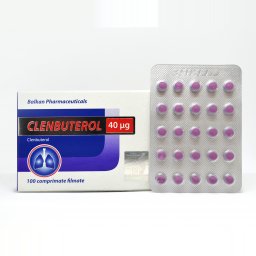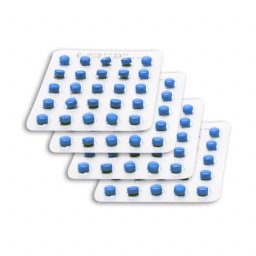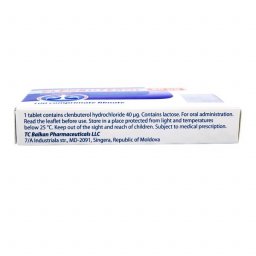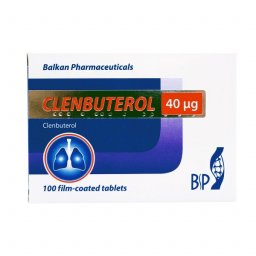 Balkan Pharmaceuticals
Clenbuterol 40
Drug Class: Beta-2 agonist, bronchodilator
Administration: Oral use
Manufacturer (Brand): Balkan Pharmaceuticals
Chemical Substance: Clenbuterol Hydrochloride
Strength: 40 mcg/tab
Unit: 100 tabs
Clenbuterol 40 Detailed
WHAT IS CLENBUTEROL 40? | Balkan Pharmaceuticals Supplier
Legit Balkan Pharmaceuticals | Buy Clenbuterol for Sale
Clenbuterol for Sale: Uses, Dosage, Cycle, Benefits, Side Effects & Reviews
Clenbuterol Hydrochloride (Clen) is a medication used to treat various disorders and syndromes, such as asthma, COPD (chronic obstructive pulmonary disorder), chronic bronchitis, and other respiratory conditions. Its effects are fast-acting and long-lasting, and when combined with other drugs and supplements, Clen can become particularly effective. Clen's popularity has grown over the years, especially amongst the bodybuilding community. It has become a staple "go-to" drug for many bodybuilders looking to maximize their gains and strength gains.
In composition, Clen is the hydrochloride salt of the β2-adrenergic receptor agonist clesterenol. It works by stimulating the central nervous system, which causes cardiac stimulation, increased airway resistance, ventilation, and metabolic rate. This is accomplished by it binding to the β2-adrenergic receptors in the body. Clenbuterol Hydrochloride is usually sold in the form of an oral solution, injection, or tablet.
Clen is easily obtainable in the United States and can be purchased over-the-counter from a variety of online vendors. It is not, however, a prescription drug, so proper usage is important, as it can cause serious side effects and health dangers. Clenbuterol is widely used for therapeutic purposes and is used off-label for many conditions, such as asthma, COPD, and various metabolic disorders. It is also widely used in bodybuilding and athletics, where it has performance-enhancing benefits.
Clen's half-life is around 32-39 hours, meaning it lasts approximately two days in the body. This duration suggests that Clen should be taken approximately every two days for optimal duration of effectiveness. Clenbuterol's active life is 8 hours, meaning that the effects are felt approximately eight hours after taking the drug. Clenbuterol should be taken as prescribed by experts, as the dosage and duration of administration can affect safety and efficacy.
Clenbuterol has a variety of interactions as it can interact with drugs, supplements, and even certain foods. Because of this, it is important to take precautionary measures when taking Clen. It is important to consult with a doctor before taking any new substances while taking Clen. Additionally, since Clenbuterol can interact with other medications, it is important to inform your doctor of any other medications that you are taking.
Clenbuterol has numerous possible benefits. It has been found to have an anabolic effect on muscles, allowing them to increase in size and strength. Additionally, by increasing the metabolic rate, Clenbuterol can help treat obesity, as it results in faster burning of body fat and also works to suppress appetite. Clenbuterol has also been used to treat asthma as it relaxes the smooth muscle in the airways, allowing them to expand and thus allowing increased airflow in and out of the lungs.
Clenbuterol also comes with the risk of side effects, such as tremor, headaches, muscle cramps, restlessness, anxiety, insomnia, increased blood pressure and coronary heart disease. Additionally, since Clenbuterol has a long half-life, it must be taken according to its instructions or it can result in a dangerous overdose.
In bodybuilding, Clenbuterol has become a widely used supplement, with some bodybuilders taking as much as 200 mcg per day. Clenbuterol is frequently used for cutting cycles, as it helps to burn fat and increase thermogenesis while preserving muscle tissue. Apart from its thermogenic effects, Clenbuterol is also believed to help with strength and endurance.
Clenbuterol is available in a variety of brand names and there are a variety of vendors offering Clenbuterol for sale, including US domestic shipping. However, as with any supplement, it is important to only purchase Clenbuterol from a reputable source. Additionally, Clenbuterol should not be mixed with other supplements or nutrients, as it can have dangerous side effects.
Pricing of Clenbuterol depends on the brand and vendor, and there are a variety of price points available. Clenbuterol can also be stacked with other supplements to increase its effectiveness. It is important to note, however, that stacking Clenbuterol with other drugs or supplements can result in increased side effects.
Clenbuterol should be stored at room temperature and in a dark and cool place. When taken according to instructions, Clenbuterol can provide many benefits. However, it is important to take into consideration any warnings that may be associated with its usage. As with any drug, the potential risks and benefits should be weighed before taking.
For more info about product discount/promo – Contact Our Customer Support
References:
Please log in to write Clenbuterol 40 review.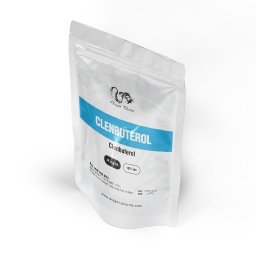 100 tabs - 40 mcg/tab
Drug Class: Beta-2 agonist, bronchodilator
Administration: Oral use
Manufacturer (Brand): Dragon Pharma, Europe
Chemical Substance: Clenbuterol Hydrochloride
Strength: 40 mcg/tab
Unit: 100 tabs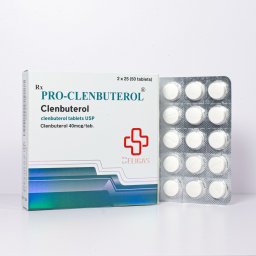 50 tabs - 40 mcg/tab
Drug Class: Beta-2 agonist, bronchodilator
Administration: Oral use
Manufacturer (Brand): Beligas Pharmaceuticals
Chemical Substance: Clenbuterol Hydrochloride
Strength: 40 mcg/tab
Unit: 50 tabs
ONLY US DOMESTIC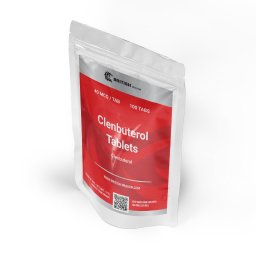 100 tabs - 40 mcg/tab
Drug Class: Beta-2 agonist, bronchodilator
Administration: Oral use
Manufacturer (Brand): British Dragon Pharmaceuticals
Chemical Substance: Clenbuterol Hydrochloride
Strength: 40 mcg/tab
Unit: 100 tabs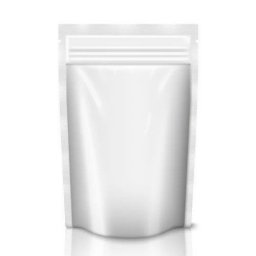 50 tabs - 20 mcg/tab
Drug Class: Beta-2 agonist, bronchodilator
Administration: Oral use
Manufacturer (Brand): Sopharma, Bulgaria
Chemical Substance: Clenbuterol Hydrochloride
Strength: 20 mcg/tab
Unit: 50 tabs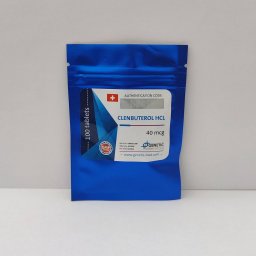 100 tabs - 40 mcg/tab
Drug Class: Beta-2 agonist, bronchodilator
Administration: Oral use
Manufacturer (Brand): Genetic Pharmaceuticals
Chemical Substance: Clenbuterol Hydrochloride
Strength: 40 mcg/tab
Unit: 100 tabs