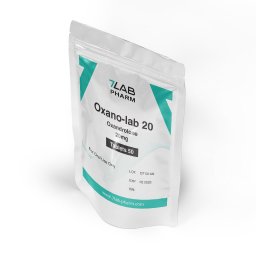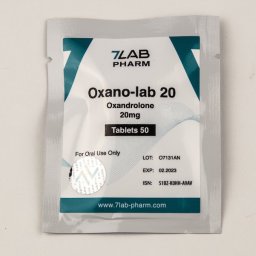 7Lab Pharm
Oxano-Lab 20 (Anavar)
Drug Class: Anabolic Androgenic Oral Steroid
Administration: Oral use
Manufacturer (Brand): 7Lab Pharm
Chemical Substance: Oxandrolone
Strength: 20 mg/tab
Unit: 50 tabs
Usage/Dosage: 40-60 mg/day; 6 weeks;
Goal: Cutting
Oxano-Lab 20 (Anavar) Detailed
WHAT IS OXANO-LAB 20? | 7Lab Pharma Supplier
Legit 7Lab Pharma Steroids Source | Buy Oxandrolone for Sale
Oxano-Lab 20 for Sale: Uses, Dosage, Cycle, Benefits, Side Effects & Reviews
Oxandrolone, also known as Anavar, is an anabolic androgenic steroid. It is known for its low androgenic potential and its low aromatization rate, making it a preferred choice among bodybuilders and fitness athletes.
The chemical composition of Oxandrolone is 17α-Methyl-17β-hydroxy-[5α]-androstan-3-one, and it has the molecular formula C19H30O3. Its molecular weight is 306.44 g/mol and it is considered to be a C17-alpha alkylated steroid. Oxandrolone is an off-white, odorless crystalline powder.
Prescription
Oxandrolone is an orally administered anabolic steroid that is only available by prescription in most countries. It is used to treat a variety of disorders, including chronic pulmonary insufficiency, HIV/AIDS-related muscle wasting, and gonadal insufficiency. It is also commonly used for treating short stature in children with Turner Syndrome.
Active Life
The active life of Oxandrolone is 8-12 hours. This means that if you take it once in the morning, its effects will last for the entire day. It is important to note that the onset of effects can take up to two weeks to appear.
Pharmacology
Oxandrolone is a synthetic anabolic steroid metabolized in the liver. It binds to androgen receptors, stimulating protein synthesis. It also increases the synthesis of IGF-1, a hormone responsible for stimulating the growth of bones, muscles, and connective tissue.
Interactions
Oxandrolone may interact with other medications, especially those metabolized in the liver, including antiepileptic drugs, oral anticoagulants, and selective serotonin reuptake inhibitors (SSRIs). It can also interact with steroids and estrogens, and can affect the metabolism of some drugs, including birth control pills. It is important to talk to your doctor about possible interactions before taking Oxandrolone.
Precautions
Oxandrolone should not be used in people with a known hypersensitivity to it, as it can cause severe allergic reactions. It should not be used in people with a known history of liver or kidney problems, stroke or blood clots, heart disease, or prostate cancer, as it may increase the risk of complications. Additionally, Oxandrolone should never be used in pregnant or breast-feeding women or children under 18 years of age.
Uses
Oxandrolone is primarily used as a means of creating and maintaining a more muscular physique in men. It increases muscle retention, increases strength, enhances vascularity, and increases lean body mass. As a result, it is commonly used in bodybuilding and other physical fitness-related activities.
Dosage
The typical dosage of Oxandrolone is 5-20mg per day for men and 2.5-10mg per day for women. The exact dosage should be tailored to the user's individual needs and should be discussed with a doctor before use.
Half-Life
The half-life of Oxandrolone is approximately 8-12 hours, which means that the drug should be taken every 8-12 hours in order to maintain its effects.
Cycle
It is generally recommended that Oxandrolone be used in an 8-12 week cycle. During the course of the cycle, it is best to slowly titrate the dosage up and gradually decrease it towards the end of the cycle.
Overdose
In case of an overdose, it is recommended to seek medical attention immediately. Symptoms of an overdose may include nausea, vomiting, abdominal pain, confusion, and drowsiness.
Legal
Oxandrolone is a prescription medication in most countries, which means that it cannot be obtained legally without a doctor's prescription. It is a controlled substance in the United States and is only available from a licensed physician.
Benefits
Oxandrolone is an effective and efficient tool for building muscle and reducing fat. Furthermore, it is significantly less hepatotoxic (liver toxic) than other oral anabolics, and it can even be used by those with a pre-existing liver issue.
Results
Oxandrolone results might vary depending on the individual, but one can typically expect to see some lean gains in muscle tissue, improved strength and endurance, and improved vascularity. Additionally, since Oxandrolone reduces body fat, users can achieve a more "cut" look to their physique.
Side Effects
Like all anabolic androgenic steroids, Oxandrolone can cause serious side effects, including suppression of natural testosterone production, liver toxicity, gynecomastia, and masculinization in women. It is also possible to develop male pattern baldness, acne, and hypertension.
Bodybuilding
Oxandrolone is a popular choice among bodybuilders due to its effectiveness and lack of harsh side effects. It is especially beneficial for people looking to cut fat and get lean without losing muscle mass. However, as with any steroid use, it should only be used when performed under the guidance of a doctor.
Reviews
Oxandrolone reviews are generally positive, with many users reporting positive results when used in conjunction with a healthy diet and exercise routine. It is also favored by competitive bodybuilders who need to cut fat for a competition.
US Domestic Shipping
Oxandrolone may be shipped domestically within the United States if it is prescribed and purchased from a duly licensed pharmacy. It is important to note that it is illegal to purchase Oxandrolone from an online pharmacy without a prescription.
Stacking
Oxandrolone is not typically stacked with other steroids, as its mild nature can be increased by stacking it with other anabolics. Additionally, it may not be stacked with other C17-alpha alkylated steroids.
Storage
Oxandrolone should be stored in a cool and dry place, away from direct sunlight and moisture. It should be kept away from children and pets, and it should not be shared with anyone, even if they have the same symptoms as you do.
Brand Names
Oxandrolone is the active ingredient in a variety of brand name medications, including Oxandrin, Anavar, Oxandrol, and Oxandrolone.
Price
The price of Ogandrolone varies depending on its form, dosage, and manufacturer. The price can range from a few dollars for 10mg tablets to over a hundred for an injectable product.
Warnings
Oxandrolone should not be used in children or pregnant women. It can cause masculinization in women and should not be used by women of childbearing potential. Additionally, it should not be used by those with a pre-existing liver issue and can lead to increased toxicity in those with alcoholism or other liver-related issues. It should never be used without proper medical supervision.
For more info about product discount/promo – Contact Our Customer Support
References:
Please log in to write Oxano-Lab 20 (Anavar) review.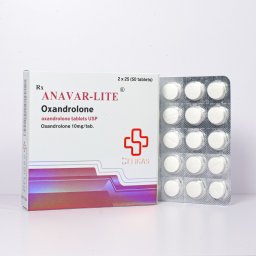 50 tabs - 10 mg/tab
Drug Class: Anabolic Androgenic Oral Steroid
Administration: Oral use
Manufacturer (Brand): Beligas Pharmaceuticals
Chemical Substance: Oxandrolone
Strength: 10 mg/tab
Unit: 50 tabs
Recommended Dose: 50-60 mg/day; 5-6 weeks;
Goal: Cutting
ONLY US DOMESTIC
100 tabs - 10 mg/tab
Drug Class: Anabolic Androgenic Oral Steroid
Administration: Oral use
Manufacturer (Brand): Axiolabs
Chemical Substance: Oxandrolone
Strength: 10 mg/tab
Unit: 100 tabs
Common Doses: 40-70 mg/day; 6 weeks;
Goal: Cutting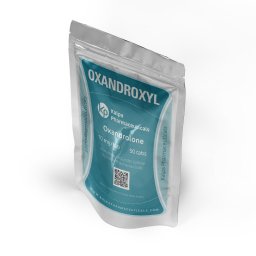 50 tabs - 10 mg/tab
Drug Class: Anabolic Androgenic Oral Steroid
Administration: Oral use
Manufacturer (Brand): Kalpa Pharmaceuticals, India
Chemical Substance: Oxandrolone
Strength: 10 mg/tab
Unit: 50 tabs
Dosage: 40-60 mg/day; 6 weeks;
Goal: Cutting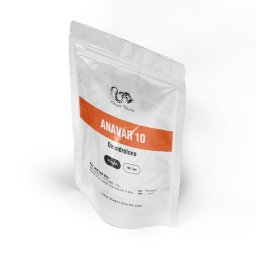 100 tabs - 10 mg
Drug Class: Anabolic Androgenic Oral Steroid
Administration: Oral use
Manufacturer (Brand): Dragon Pharma
Chemical Substance: Oxandrolone
Strength: 10 mg/tab
Unit: 100 tabs
Usage/Dosage: 40-60 mg/day; 4-8 weeks;
Goal: Cutting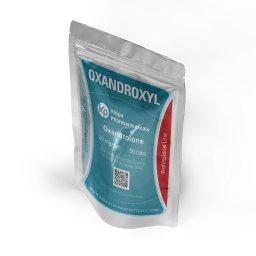 50 tabs - 20 mg/tab
Drug Class: Anabolic Androgenic Oral Steroid
Administration: Oral use
Manufacturer (Brand): Kalpa Pharmaceuticals, India
Chemical Substance: Oxandrolone
Strength: 20 mg/tab
Unit: 50 tabs
Dosage: 40-60 mg/day; 4-6 weeks;
Goal: Cutting